There are also translations of this web page into Dutch and German
For notice.
Personally, I am not related to the families mentioned here and incidentally to several families that are mentioned on my website, but this aside.
This story and many other stories arose purely from interest and coincidence that I came across the Heumann family through another family, that I was investigating at that time, so my interest grew, you can also call it "curiosity".
(incidentally, two Heumann families are mentioned on the website but could not find any kinship in this)
The stories generally came about because of my genealogical research over the years that received my strong attention.
I even made a separate webpage about it and you will find it HERE . (not all stories have been translated into English)
All photos here on this page are 80% manually colored by the webmaster.
Jewish boy in hiding in Soerendonk found after 70 years
November 2019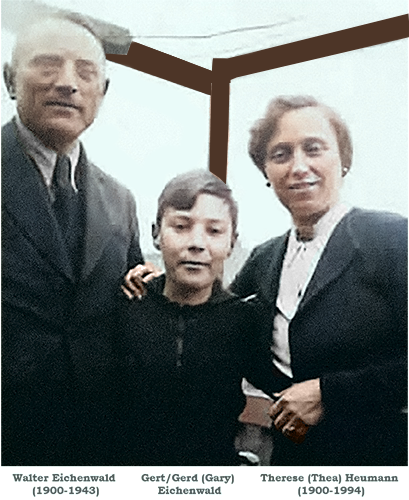 Jewish boy in hiding Gert (Gary) Eichenwald between his parents in 1942, just before the family was abruptly torn apart.

Short preface
René Vos is the original author of the Dutch story, since this is a renewed edition of the story about Gert (Gary) Eichenwald, I have left the texts of René in tact as much as possible with only here and there a necessary correction.
I have made this English version with permission of René, this version differs here and there from the original Dutch version.
I have been a genealogical researcher for over more than 20 years, see my website at below of this page.
Kind regards "The Ancestor Company" owner and webmaster of Genealogybos.com

In 2011, René Vos (here referred to as I or René) wrote the book "Broken Wings" Air War above the municipality of Cranendonck and Hamont-Achel 1940-1945 in the province of Noord-Brabant, the Netherlands.
While working out the Pilot Aid chapter, René came in contact with Foppe de Lang from Nuenen. province of Noord-Brabant. Among other things, he provided René with information about pilot assistance, later in this story more about these "pilots and crew members" of shot down planes in that area.
In the same year Jac. Biemans wrote his findings about the Maarheezer resistance group "De Vrijbuiters" a free translation of the word could be " The Filibusters".
Some time ago there was again contact with Foppe de Lang with the question if René knew the Bloem family from Soerendonk.
The family is said to have offered Jews (and many other people) shelter during the Second World War.
So after 70 years René came in contact with Gert (Gary) Eichenwald, 83 years old (at the time of writing in 2013 ) and living in Boynton Beach, Florida, in the same neighborhood / district lives not so far away from Gary Eichenwald also Gaby Blumenfeld.
We look back on his hiding period in Soerendonk. (All texts are adapted to the past)
The emergence of hatred (pogroms) against minorities and the Jewish population
As an introduction the following.
After the alleged appointment of Adolf Hitler as

Reichs

Chancellor on January 30, 1933, Germany is going socially downhill and German Jews are preparing for an uncertain future.
The hunger for the pursuit of the ideals of Adolf Hitler and his party, the NSDAP (National Socialist German Workers Party), was far from satisfied.
The two most important ideals in Hitler's politics were the widening of German territory (Lebensraum "more living space") and the next step in their extreme racist Nazi ideology was that the Aryan race would become "Übermenschen", freely translated means "Übermenschen" superior people.
As you know, this led to the systematic eradication of millions "Untermenschen", freely translated into "subhuman creatures" or "genocide.

Systematic Opposing Jews in general
This group consisting of Jews, Slavic peoples, Roma, Sinti, disabled people and mentally disturbed etc. have been under great pressure since the rise of the National Socialist German Workers Party (NSDAP).
It is therefore in the late 1930s that many Jews sought refuge and fled to the Netherlands, for example.
Jewish family Eichenwald moves to Eindhoven, the Netherlands.
The Jewish family Eichenwald, too, moved in 1933, just like about 4000 other Jews from Germany, from their home town of Benrath (Düsseldorf), Hauptstraße 46 to the Netherlands and end up in Eindhoven.
Here they settle on the Albert van Nassaustraat 18 (corner house, nowadays the Nassaustraat and almost all houses from that time have been replaced by new construction)
They all had the hope, as the Dutch government itself has, that the Netherlands will remain neutral as in the First World War, in this way people hope to be able to cope with the war evade, unfortunately that turned out not to be the case,
Nothing turns out to be less true if on 10 May 1940 Hitler's troops with the codenamed attack "Fall Gelb" invade the Netherlands, Belgium and Luxembourg.
An uncertain time is coming for the Dutch population and all the more for its Jewish refugees.

Escape and / or emigration
Just like many other Jews who sought refuge in the Netherlands, but also in Belgium and France.
Those who could afford it financially even migrated to Shanghai in China, via the United Kingdom to the United States and in some cases even to Chile in South America.

The Eichenwald family at the center of this story has been living in Eindhoven for seven years with their son Gert.
Gert was born on June 2, 1930 and is therefore ten years old when the war broke out.
The family also consists of father Walter Eichenwald, born on December 3, 1900 and mother Thea Eichenwald-Heumann, born on July 30, 1900.
Father Walter Eichenwald is a trader (pedlar) and visits the villages in the vicinity of Eindhoven with his suitcases with merchandise.
According to people from Nuenen who were interviewed, he was a calm and friendly man.
Go into hiding in Soerendonk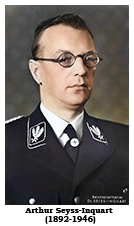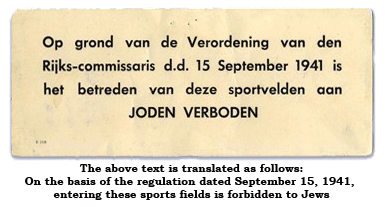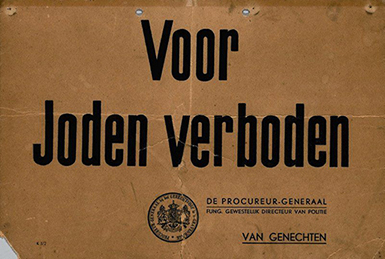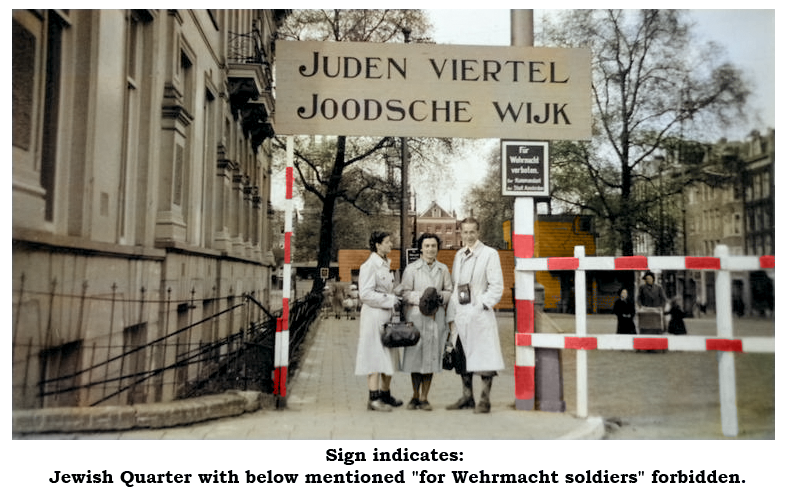 On May 19, 1941, the top of the German Reischkommissariat (being Seyss-Inquart the Reich Commissioner for the Netherlands and four Commissioner Generals) decided that all Jews in the Netherlands should disappear.(final solution)
After the German occupiers had already introduced restrictive measures against Jews in the Netherlands, such as the signs with the text "Forbidden to Jews" see image, the first deportations started in 1942.

In July 1942 many Jews received a call to register for an inspection at the Westerbork transit camp in the province of Drenthe.
An uncertain time is coming for the Eichenwald family they decide to go into hiding.
Father Walter Eichenwald goes into hiding together with his

brother-in-law and uncle of Gert

, Paul Blumenfeld, with a family in Nuenen.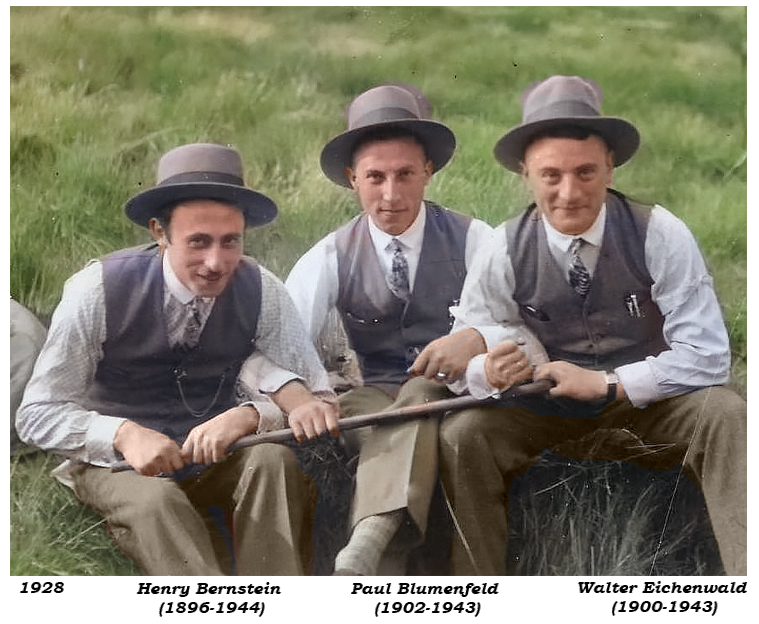 Henry, Paul and Walter were brothers-in-law, Henry was married to Martha (Maddi) Heumann, Paul was married to Helene (Lene) Heumann and Walter to Therese (Thea) Heumann, three Heumann sisters, you can read the story about these three sisters HERE.
Walter had a brother Otto who was married to Ruth Albersheim read their gripping story HERE.
Walter brought his wife Thea and son Gert to a close acquaintance, namely the Bloem Family in the Cranendoncks forest, plot no.119 (now Bospad 2) in Soerendonk.
The Bloem family lives there in the Forest of Cranendonck with father Hendrik and mother Lucia and their 9 children.
The Bloem family is not really central to this story, but it is the reason to initiate this and many other stories and is a symbol for those who do not allow the Germans to teach them the lesson.
They are religious and have a sober view of life, anice conclusion of this story may well be the result of a close appreciation by the Jewish community for the help the Bloem family gave, see below a brief family composition of the Bloem family.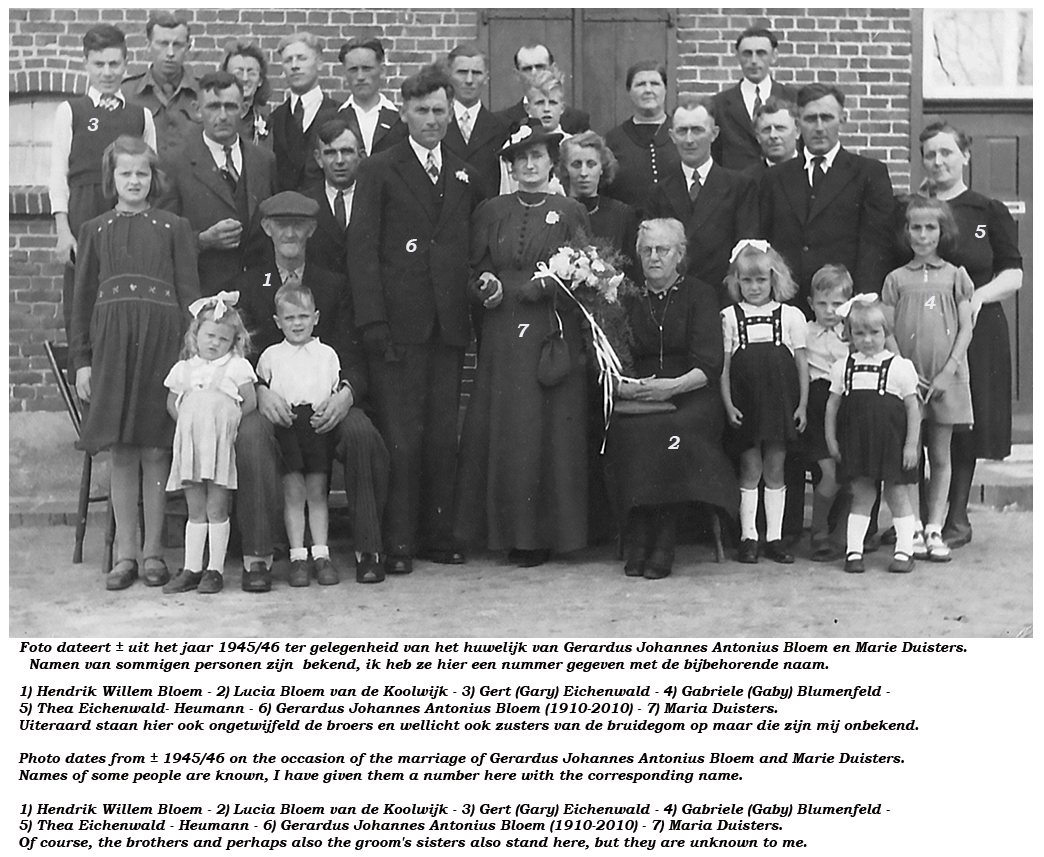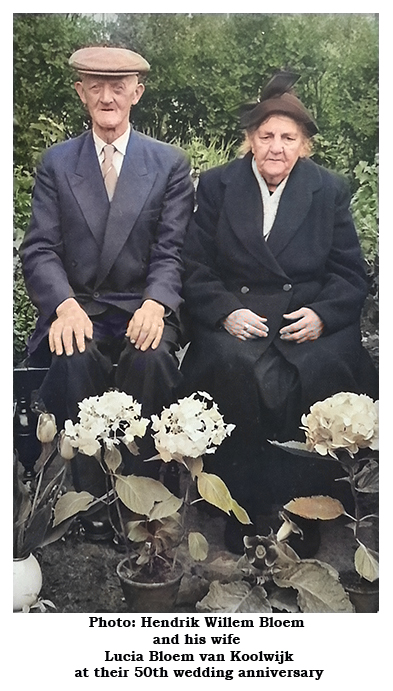 Limited family tree of this Bloem family
The Bloem family moved from the village of Ruurlo, Gelderland mid 1921 to the farm adjacent to it Cranendoncks forest in Soerendonk.
Ten children were officially born from this marriage, but one daughter died at the age of 9 years in 1918, the eldest son Leo was born in Utrecht in 1902 before the official marriage in 1907.
Gert Eichenwald would meet all nine children Bloem in the two and a half years that he went into hiding with the Bloem family.
Descendants of Adrianus Wilhelmus Bloem
1 Adrianus Wilhelmus Bloem
was born on Wednesday 6 March 1844 in
Bergharen (Gld)
. Adrianus married
Geertruida Johanna Bolderdijk
. Geertruida was born on Friday 29 July 1859 in
Batenburg (Gld)
.
Child
of Adrianus and Geertruida:
Hendrik Willem
.
Hendrik Willem Bloem
was born on Monday 23 February 1880 in
Batenburg (Gld)
, son of Adrianus Wilhelmus Bloem (see
1
) and Geertruida Johanna Bolderdijk. Hendrik died on Tuesday 9 July 1968 in
Weert (Lim)
, aged 88.
At the age of 27, Hendrik married
Lucia van de Koolwijk
, aged 28, on Wednesday 15 May 1907 in
Batenburg (Gld)
. Lucia was born on Monday 7 April 1879 in
Batenburg (Gld)
, daughter of
Henricus van de Koolwijk and
Antonia van Ooijen. Lucia died on Wednesday 19 July 1961 in
Maarheeze (Nb)
, aged 82.
Children of Hendrik and Lucia:
1 Leopoldus Antonius Marie (Leo) Bloem
, born on Tuesday 26 August 1902 in
Utrecht
.
Follow 3
.
2 Adrianus Hendrikus (Adriaan) Bloem
, born on Saturday 7 March 1908 in
Bergharen (Gld)
.
Follow 4
.
3 Henrica Adriana (Riek) Bloem
, born on Wednesday 5 May 1909 in
Bergharen (Gld)
. Riek died on Monday 14 October 1918 in
Ruurlo (Gld)
, aged 9.
4 Gerardus Johannes Antonius Bloem
, born on Tuesday 21 June 1910 in
Bergharen (Gld)
.
Follow 5
.
5 Antoon Hendrik (Toon) Bloem
, born on Saturday 9 September 1911 in
Ruurlo (Gld)
. Toon died on Tuesday 16 February 1999 in
Weert (Lim)
, aged 87.
10 Hendrica Maria (Riek) Bloem
, born on Friday 18 February 1921 in
Ruurlo (Gld)
.
Follow 6
.
3 Leopoldus Antonius Marie (Leo) Bloem
was born on Tuesday 26 August 1902 in
Utrecht
, son of Hendrik Willem Bloem (see
2
) and Lucia van de Koolwijk.
At the age of 24, Leo married
Maria Biessen
, aged 29, on Tuesday 23 August 1927 in
Budel (Nb)
. Maria was born on Monday 25 July 1898 in
Budel (Nb)
, daughter of
Theodorus Biessen and
Maria Elisabeth Jansen.
4 Adrianus Hendrikus (Adriaan) Bloem
was born on Saturday 7 March 1908 in
Bergharen (Gld)
, son of Hendrik Willem Bloem (see
2
) and Lucia van de Koolwijk. Adriaan died on Tuesday 14 April 1992 in
Weert (Lim)
, aged 84.
At the age of 34, Adriaan married
Gertruda Petronella Schroeten
, aged 28, on Friday 6 November 1942 in
Weert (Lim)
.
Gertruda was born on Friday 17 April 1914 in
Stramproy (Lim)
, daughter of
Jacobus Schroeten and
Petronella Elisabeth Creemers.
5 Gerardus Johannes Antonius Bloem
was born on Tuesday 21 June 1910 in
Bergharen (Gld)
, son of Hendrik Willem Bloem (see
2
) and Lucia van de Koolwijk. Gerardus died on Monday 10 May 2010, aged 99.
Historie-History:
For many years he was the neighbor of the author René Vos, with whom he moved many hives as a youth.
He often told about that the war period was mysterious and adventurous.
At about the age of 35, Gerardus married
Marie Duisters
around 1945. (
see picture above
)
6 Hendrica Maria (Riek) Bloem
was born on Friday 18 February 1921 in
Ruurlo (Gld)
, daughter of Hendrik Willem Bloem (see
2
) and Lucia van de Koolwijk.
At the age of 22, Riek married
Jacobus Franciscus Mathias Schroeten
, aged about 23, on Monday 8 November 1943 in
Maarheeze (Nb)
.
Jacobus was born around 1920 in
Nederweert (Lim)
, son of Jacobus Schroeten and Petronella Elisabeth Creemers.
Personal or Family cards from Hendrik Willem Bloem and Lucia van de Koolwijk + card children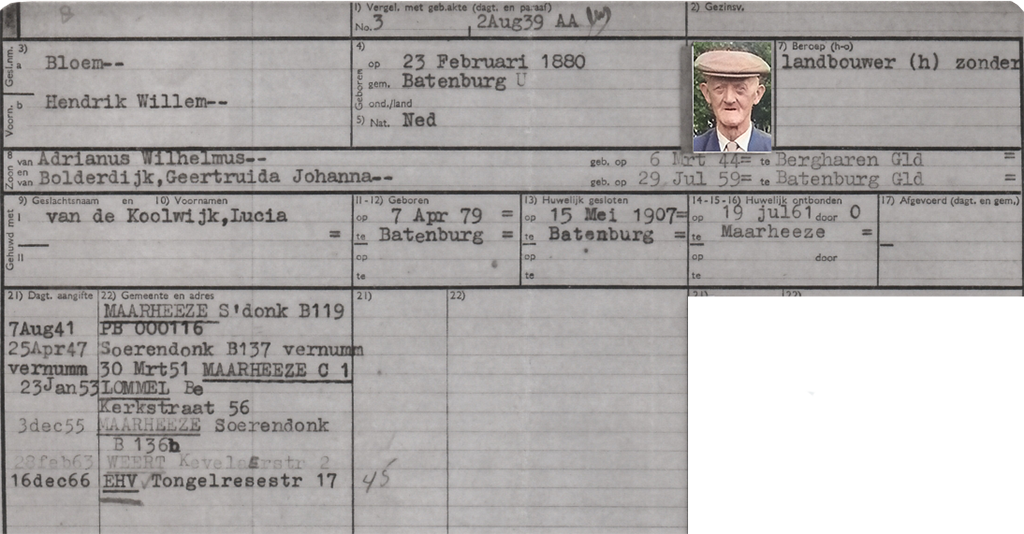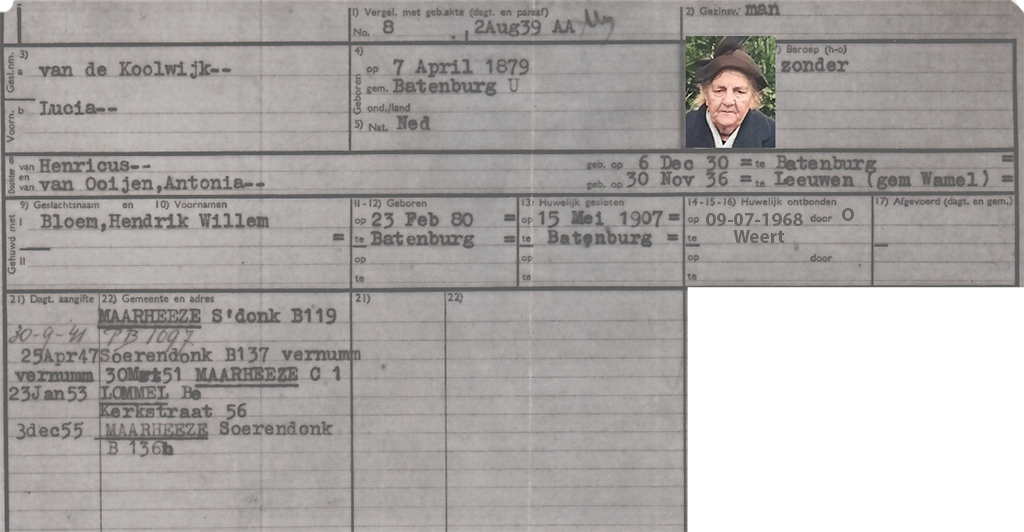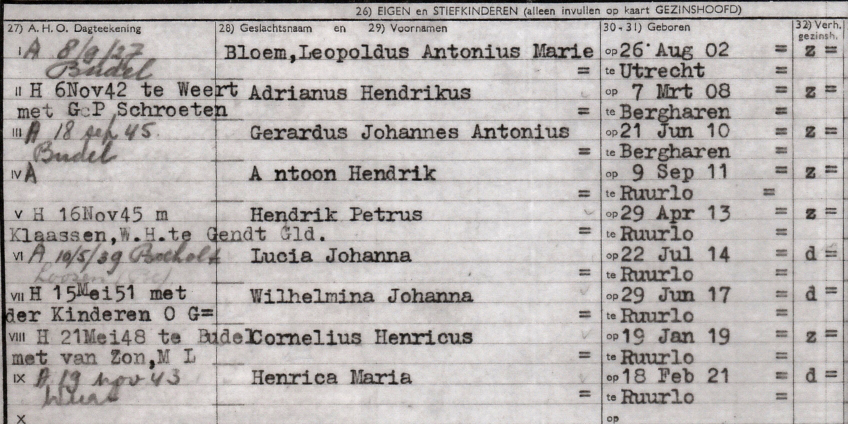 Sources taken from WhoWasWho and Central office for genealogy (CBG), with thanks to Mrs. F.Peelen.
Going into hiding with the Bloem family
Jews who lived here in the Netherlands and saw the danger of deportation approaching, at least the majority and not all of them, sought refuge in hiding and as soon as the police at the door of your home address not found anyone, the message below came to be in the newspaper:

So this concerns the Eichenwald family;
The Chief of Police of Eindhoven requested the investigation, arrest and conduct of Walter Eichenwald, living in Eindhoven.
He is suspected of having changed his place of residence without the required authorization.
Jews who went into hiding were indicated by this description.
General Police Sheet, No. 36, September 10, 1942, 1028, message 1904.
Gert (Gary) continues;
Gert tells, after he and his mother were housed with the Bloem family, his niece Gaby (would join later after the death of her mother Helena Blumenfeld-Heumann in oktober 1944), the daughter of his uncle Paul Blumenfeld, who was hiding in Nuenen, province of Noord-Brabant, Helena Blumenfeld-Heumann and Gaby were in hiding with the Paddenburg family in Soest.
So the family was separated from one day to the next and lived, hoping not to be discovered, in various places spread over the province of Noord-Brabant, such as in Nuenen, Soerendonk and Budel and in Soest, province of Utrecht.
Gabriele (Gaby) Blumenfeld, sometimes also stayed in the home of Leo Bloem, the eldest son of Hendrik Willem Bloem, on Broekkant, Budel.
We as people in hiding, Gert tells, were in a shelter in a forest behind the Bloem family's farm, there were about eleven small islands of five to six meters with water in between.
Gert tells that they were housed in a straw hut where they were bothered by rats at night, his mother therefore had a stick beside the bed to chase them away.
There were two old T-Fords in the forest, one used by hiding pilots (more about that later) and in the other Gert played.
As a guard, the Bloem family had geese that served as guard dogs and hung on your legs if you wanted to pass them, Gert tells us that Hendrik or Cor usually brought us food twice a day, the food was hidden in a bucket that they used to milk the cows.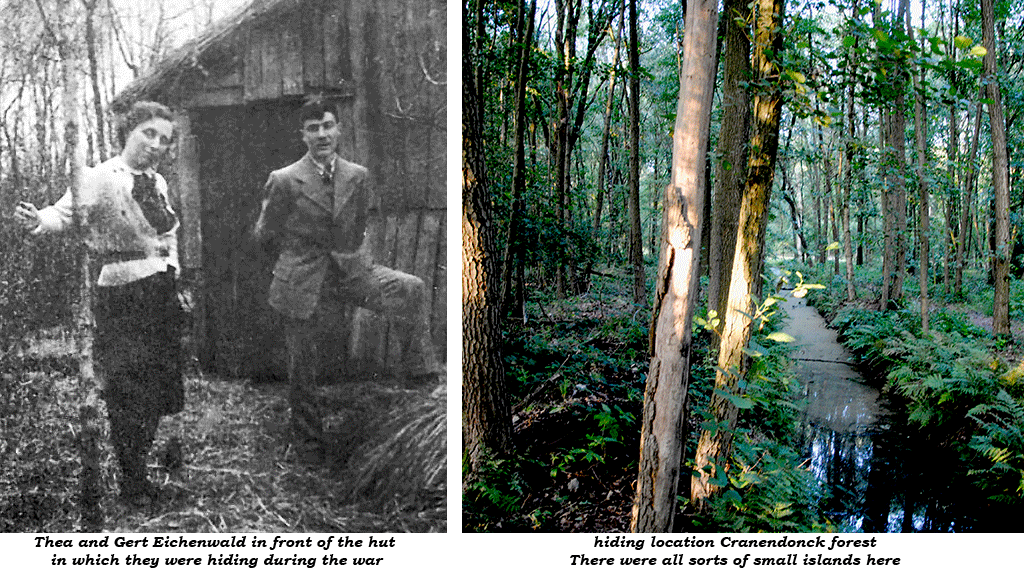 From a newspaper article of the Eindhovens Dagblad from 18 October 2017
Mr. Wiel Peerlings from Soerendonk tells a passage from book Broken Wings;
In this farm were hiding pilots and combat aircraft crew and some Jews, these people in hiding have dug a pond about 80 meters long and 10 meters wide with a shovel and a wheelbarrow, the sand was driven behind the forest edge, from that excavated sand, a sand mountain was made that was used as an air raid shelter.
As mentioned earlier, there were also two old T-Fords, in one of those T-Fords the people in hiding slept in, and in another one there were pigs in kept illegally because everyone had to eat.
After the war you could row on the excavated pond, during the advance of the Allies, large petrol tanks were dropped by parachute to provide the men with fuel, if these were empty, these tanks were sawn in half and turned them into little boats, against payment, people could row on that pond. (see photo below how the pond there today still looks like, here's a shot of Google maps)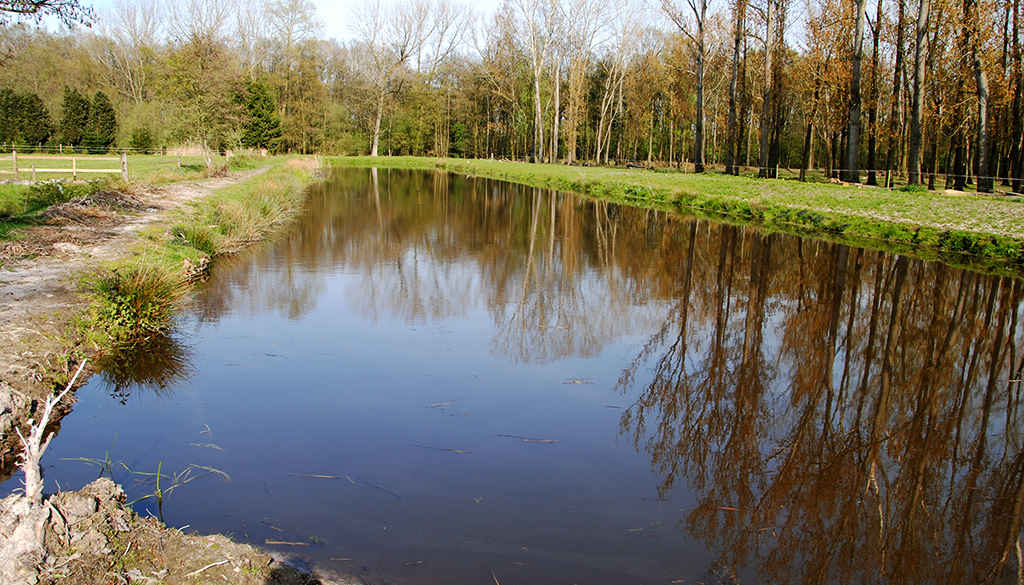 Gert (Gary) continued the story..........
At Easter or Christmas, Gert tells us, we ate a goose egg in exceptional circumstances.
According to Gert, the Bloem Family was also helped by field guards, so the names of the Marechaussees (Military police) Frans van Riel and Willem Vermaazen appear, the name Dick Albers was also mentioned, but also sometimes a nun with such a hood on her head came to the farm, this nun, who was also a nurse, must probably have been Soeur Eugene Knippenberg, of the Divine Providence.
In a conversation with Greet Albers-Dings, married to Dick Albers and during the war active in the resistance from their post office in Maarheeze, it is told that she has sometimes seen Gert and his mother and Gaby with the Bloem family, according to Greet, the Bloem family were very fond of them.
After the war, however, Greet did not hear from them anymore, but according to the author the contact has been restored after years and letters and photos has been sent.
The last time.........
Gert's father comes only once to visit them by bicycle from Nuenen to Soerendonk, this was a dangerous undertaking and the risk of discovery was also high
Hence it was only that one time, this visit would be also the last time that Gert would see his father.
Betrayal and deportation
Less than a year after hiding, fate strikes, Gert his father, Walter Eichenwald and uncle Paul Blumenfeld, who were in hiding in Nuenen are betrayed and arrested on Wednesday, June 23, 1943.
Three days later, on 29 June 1943, they

were

transported to Sobibor where

they became

gassed together with many others immediately after arrival on 2 July 1943.

Different sources contradict each other, one source says "during a

raid

" and the other source talks about "treason", I keep it in the middle,such a "raid" didn't just fall out of the sky so there will probably have been of betrayal that both have been arrested as a result.

Arrested:
The Chief of Police of Eindhoven requested that Walter Eichenwald, who was living in the Alb.van Nassaulaan 18 in Eindhoven (now Nassaustraat 18, Eindhoven ,

Corner house

.) be found, arrested and brought to trial.
He was suspected of having changed his place of residence without the required authorization.
Jews who went into hiding were indicated by this description.
Source: General Police Sheet, No. 36, September 10, 1942, 1028, message 1904.

On through transport from Eindhoven to Westerbork become Walter Eichenwald and his brother-in-law Paul Blumenfeld locked in the police station in Zwolle at 11.50 am on June 25, 1943.
They are both transported on the following day at 9 am.
Source: Historical Center Overijssel, Police archive Zwolle, inv.no. 57, no. 1088.
Immediately after the arrest of Walter and Paul, the Bloem family was visited by the SD (German Security service) from Eindhoven who were looking for Jews.
When they wanted to take father Hendrik Willem Bloem in their car, son Hein (Hendrik Petrus) told that Jews had been passing through, but that they had left for Belgium, son Hein was believed and they released father Hendrik Bloem.

Other people in hiding with the Bloem family
In addition to, Gert tells us, there were also other people in hiding who had been in hiding for shorter or longer periods, for example, there was also the Jewish Family de Vries for a certain time, consisting of father, mother and son, they were hiding in the living room until they left.
In addition to the Jews, Gert told, Jos Bots was also in hiding, a twenty-year-old student from Delft "The Technical High School", nowadys University of Technology.
Research has shown that at the time of writing (2013) he lives in Valkenburg, Limburg and there was also a person in hiding who wanted to avoid the "Arbeitseinsatz" (forced labor in Germany), further details are unknown about this person.

Gert also remembers that English and American pilots or crew members were in hiding, he remembers a Jewish crew member (Max Gottlieb) from Chicago and a Canadian (Allen Vincent McIntosh, more on this later), with whom he played at the time in the hiding period.

With regard to these three crew members who had flown together with the B 17 Spirit of '76 (this "Flying Fort" crashed in it "Starrenbos" between Haelen and Heythuysen in the province of Limburg) and by coincidence to meet again and ended up with help from members of the "resistance" at the farm of the Bloem family, later they continued their way via the "Comet Escaping Line" via Belgium etc.
These three crew members were: Elmer C. Gilcrease, Max Gottlieb and Francis J. McDermott,
The website of "Escaping Comet Line" is entirely in the French language, but there is a possibility to read the stories in another language, for example English, click here for the explanation.
Note:
Of this group "Comet Line", which was also called " Pilot Line ", was made a TV serie called " Secret Army "(1977-1979).
Secret Army was created by Gerard Glaister as a follow-up to his drama series Colditz.
Glaister was a former RAF pilot and his experiences provided the inspiration for the series, Lifeline loosely resembled Comet line.
The character of John Curtis was influenced by the experiences of the series' technical consultant, Group Captain William Randle, who escaped from occupied Europe in 1942 and was later Keeper of the Battle of Britain Museum.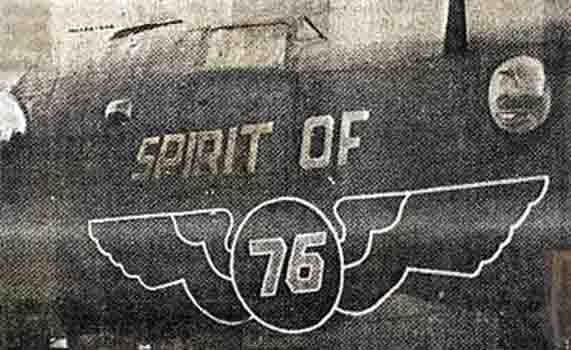 This aircraft flew a total of 23 missions until it was shot down when it returned from an attack on Solingen on November 30, 1943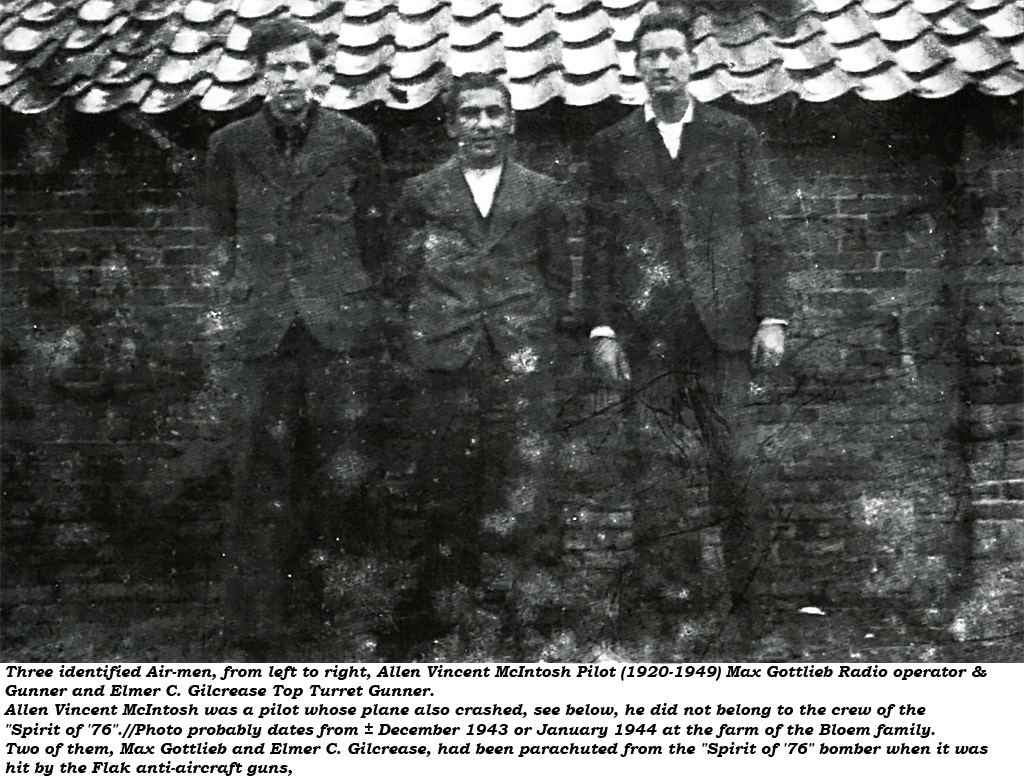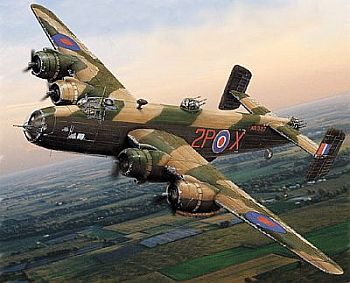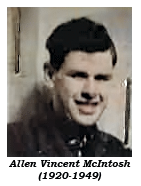 Allen Vincent McIntosh crashes with his Halifax from the 434th Squadron near Monchengladbach, Germany.
He is initially imprisoned, manages to escape and ends up with the Bloem family through the Maarheezer resistance.
Allen Vincent McIntosh died in a plane crash in Trenton, Quinte West, Ontario Canada, 29 years old.
You can read more about this tragic accident in a newspaper clipping at the end of this webpage.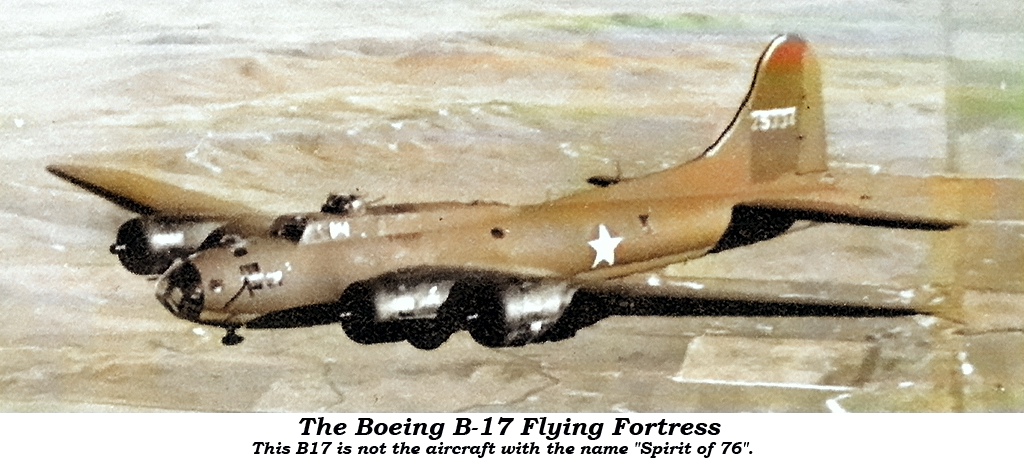 Listed below are the eleven-crew members of the B 17 bomber "Spirit of 76" shot down November 30, 1943 (Raid on Solingen)
Obviously, it's strange that eleven people are known, since there were always ten crew members aboard such a B17, but the fact is that Thomas R. Batcha was a pilot and was part of the 95th Bomb Group which also included the "Spirit of '76" belonged, Thomas R. Batcha has also flown with the "Spirit of '76", this bomber has completed a total of 23 missions.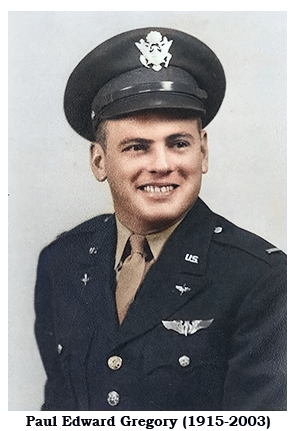 Paul Edward Gregory 20-06-1915-19-11-2003 Bombardier, 8-Missions (survived)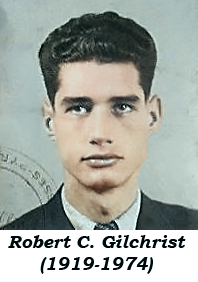 Robert C. Gilchrist 11-06-1919 - 01-03-1974 Co-Pilot (survived) Find a Grave
Elmer C. Gilcrease 24-10-1923 - 16-01-2002 Top Turret Gunner (survived) link to "Find a Grave"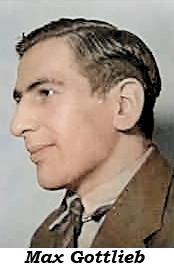 Max Gottlieb ±1918 - 04-06-2017 (99 years) Radio Operator & Gunner, 18-Missions (survived)

Max also lived at Boynton Beach, Florida, United States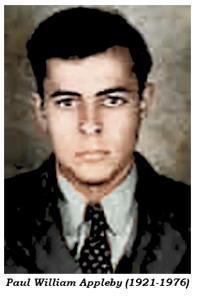 Paul William Appleby 11-02-1921 - 13-03-1976 Staff Sergeant, Right Waist Gunner, 'The Spirit of '76", (POW) Find a Grave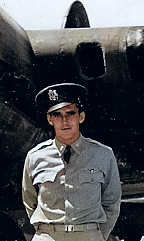 Arthur Charles Hensler Jr 16-11-1916 - 30-03-2003 Pilot (POW) (survived) Find a Grave
Charles J. Higgins 23-06-1915 - 20-09-1984 Tail Gunner (survived) (POW) 7-Missions Find a Grave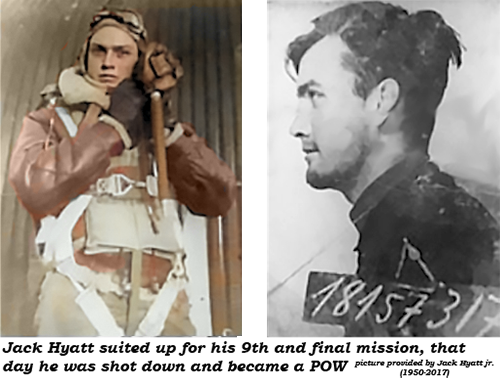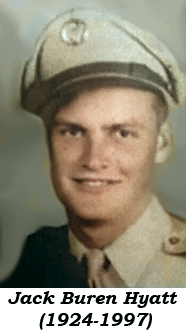 Jack Buren Hyatt 07-05-1924 - 07-08-1997 Left Waist Gunner, 9-Missions,(POW) (survived)

William L. (Bill) Lohmann (date of birth unknown) 30-11-1943 Navigator, 7-Missions, Shot down 30-11-1943 in B-17 #42-3317 'The Spirit of '76'.
His body was found almost 8 months later, namely on July 21, 1944 on the banks of the river Meuse in Kessel, 15 km NE of Roermond, the Netherlands, he landed with his parachute in the river Meuse and drowned, Killed in Action (KIA) buried at Ardennes American Cemetery, Neupré, Belgium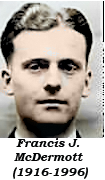 Francis J. McDermott 13-03-1916 - 12-01-1996 Ball Turret Gunner, 7-Missions, (POW) (survived)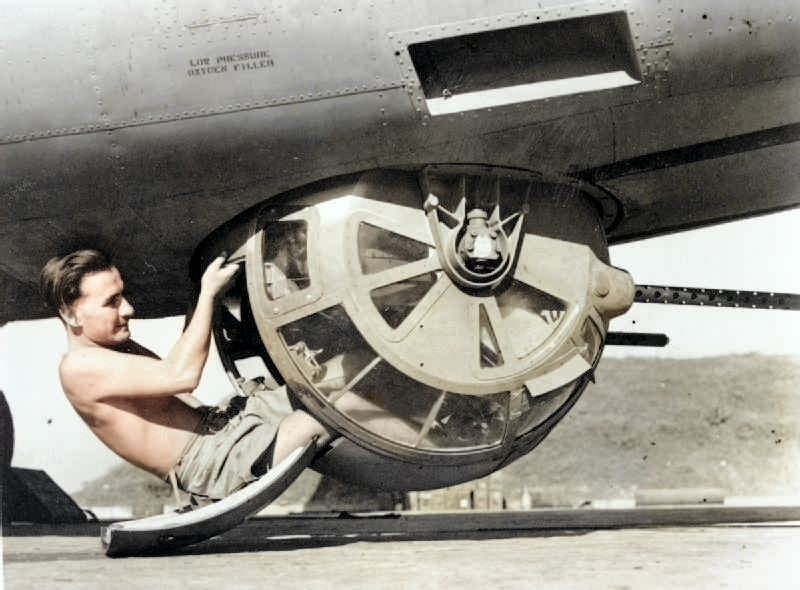 Photo illustrates the location of a "Ball Turret Gunner"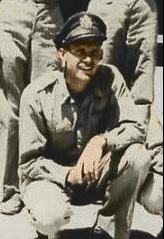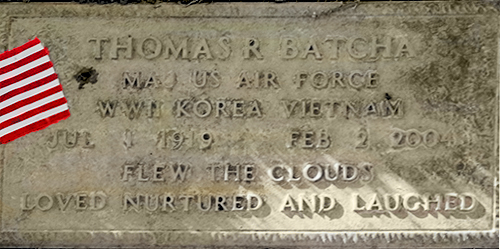 Thomas R. Batcha 01-07-1919 - 02-02-2004 Pilot (flew 25 missions) Major American Air Force, Pilot in the Second World War, also participated in the Korean war and also served in Vietnam)
Find a Grave
More info can be found on this website "Comet escaping Line" only this website is written entirely in the French language, but perhaps still worth a look.
There is also a map on how exactly the escape route went, if want to look on the map, you have to scroll down the page.
Division of roles in a "Flying Fort"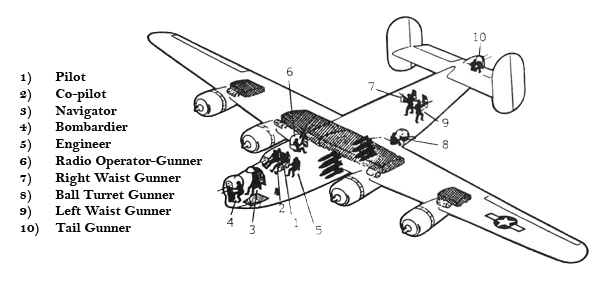 Finally liberated
Gert tells that they were always on their guard and eventually they were freed by the English, everyone was obviously very relieved and elated at that memorable day September 22, 1944.
That the nightmare was not over, it became clear when we received a message shortly after the liberation that the mother of my cousin Gaby, who was in hiding with us at the Bloem family, died on 8 October 1944 in the hospital in Amersfoort, because she was a diabetic and insulin was no longer available.
Liberation of the Netherlands 1945
The part above the large rivers in the Netherlands was still not liberated, people in the west of the country were still suffering from a severe famine, on May 4, 1945 the surrender was signed on the Lüneburg Heath in Germany (see picture below) this is a a different view of the so-called established "Capitulation" of the German occupiers who, according to historians, would have officially taken place in the Hotel "de Wereld" in Wageningen, this webpage can unfortunately only be read in the Dutch language.
Wageningen is not "the" city of capitulation or liberation, the Peace of Wageningen 1945 is a myth and Prince Bernhard was only present on 5 May 1945 and the reason why he was present there is a complete mystery since he had no function whatsoever to be present there.
But the municipality of Wageningen is happy to maintain this myth for whatever reason.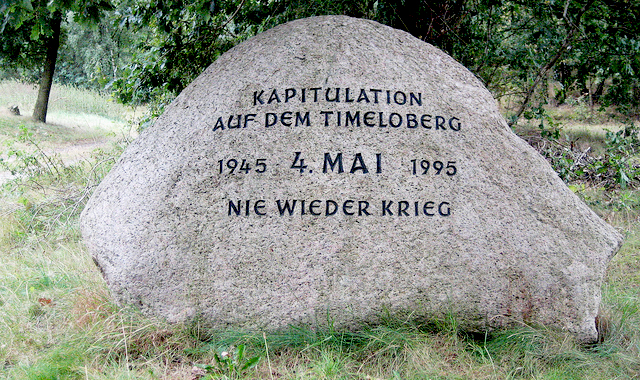 Aerial combat
As an illustration, the author René Vos quotes a text from his book "Broken Wings" (read below)
The Canadian Squadron Leader Mackie, who was stationed with 274 Squadron in Volkel, province of Noord-Brabant, became involved with his Typhoon Hawker Tempest, in a aerial combat above Soerendonk with a Focke-Wulf Fw 190A-9, about 13.00 hours local time or 1.00 pm on December 24, 1944
The Focke-Wulf Fw 190A-9 was manned by Lt.Gerhard Rieckhoff from the 1/JG-6 (Hunters squadron or in German, Jagdgeschwader 6), the German pilot had earlier in the day shot down two Typhoons of the 440 Squadron above the Belgian Ardennes, both allied pilots were killed in these incidents.
The aerial combat that was seen by many residents of Maarheeze and Soerendonk was a remarkable spectacle, like "wasps," they flew over each other, so the witnesses later told.
The aerial combat ended in the fall of the German plane, the cause was that one of the wings had been shot off half.

The plane crashed on "De Kleine Bruggen" in Soerendonk, the exact location is located in the meadow between the connecting road Soerendonk-Maarheeze, De Kleine Bruggen and Kerkstraat, as the crow flies this is about 150 meters from the farm of the Bloem family, if you scroll down from the marked spot (Google maps) you will see the large elongated pond that was dug out by hand during the war years.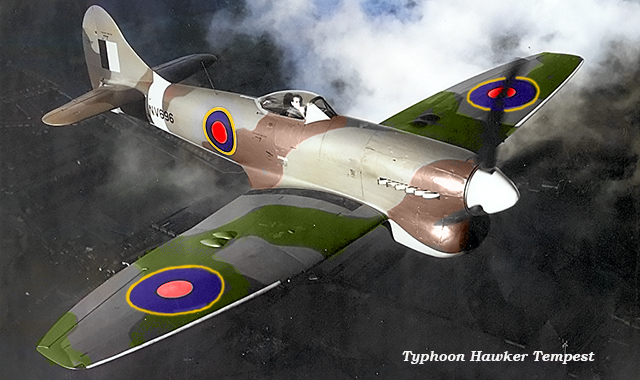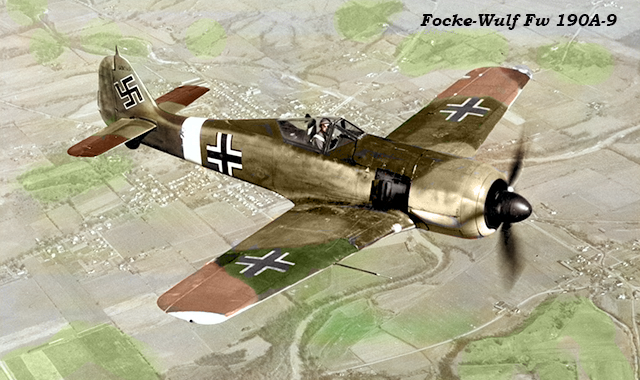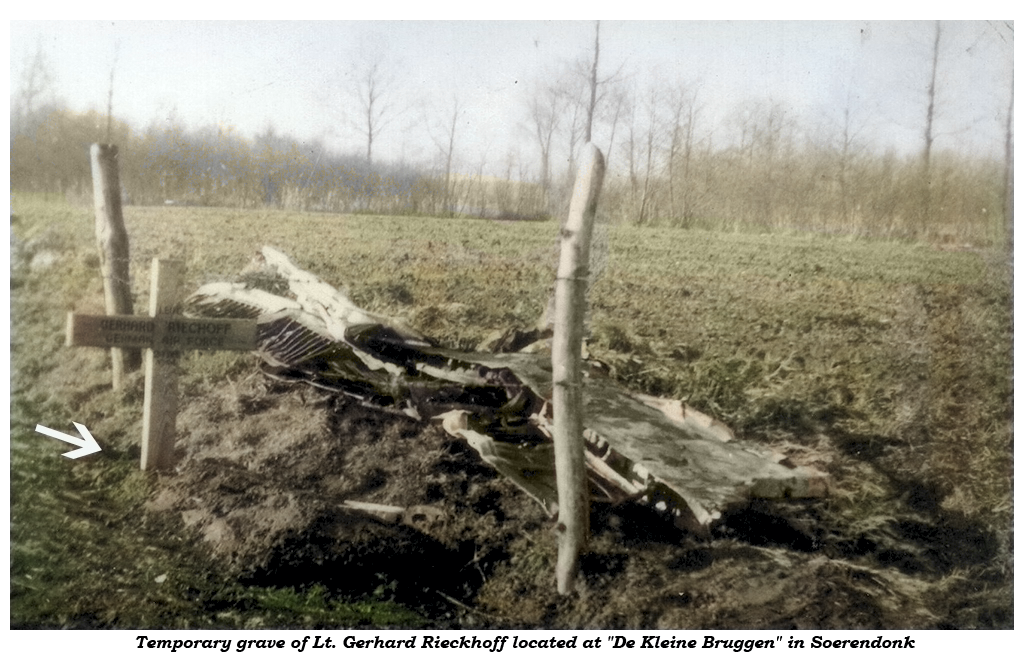 After the liberation and emigration to the United States
Gert (Gary) Eichenwald continues his story.........
We, as the Eichenwald family and Gaby Blumenfeld, arrived in Soest, province of Utrecht with their meager possessions, my Uncle Ernst Eichenwald, Walter's brother, took care of us.
In Soest, Gert follows the Christian ULO from May 1945 till 1947 (ULO or MULO is an abbreviation of "(more) extended primary education") with the result that he can still read Dutch.

In Soest they waited for the return of Aunt Martha (Maddi) Bernstein-Heumann, who had survived the concentration and transit camp Theresienstadt, Czech Republic. (originally it is called Terezín in Czech)

Maddi was arrested on June 5, 1944 at her hiding place in de Van Straelenlaan 31, Soest, together with her husband Henry, their son Rolf and the teacher Benjamin Blankenstein, who had hidden them, Maddi, Henry and Rolf were first deported via Westerbork to concentration and transit camp Theresienstadt, Henry (as first) and Rolf (a little later than his father) were transported from Theresienstadt to concentration and extermination camp Auschwitz, Poland and gassed there.

Henry and Rolf died both in Auschwitz and their helper, Benjamin Blankenstein

was imprisoned in a prison in Amsterdam, later transferred to Camp Vught

and then ended up in Sachsenhausen and finally in Bergen-Belsen and died there on February 24, 1945 infrom exhaustion and dysentery.

Theresienstadt was primarily a transit camp for Jews who were usually sent soon to Auschwitz-Birkenau or other extermination camps.
Martha (Maddi) Bernstein-Heumann stayed behind in Theresienstadt, probably because she was a gifted pianist, which is why she may have survived this camp.

Gert and his mother Thea Eichenwald-Heumann emigrate on May 13, 1947 with Gaby and his aunt Martha Bernstein-Heumann and with a mutual girlfriend Johanna (Rie) de Hartog van Leeuwen to the United States.
You can find more information on this webpage written in English about the Heumann family and also about Benjamin Blankenstein and Johanna (Rie) de Hartog van Leeuwen
The subsequent social life in the United States
My uncle Ernst, Gert tells, brought us to the United States and arranged a furnished house and a job for me and my mother.
My mother went to work in a hospital in the linen department and I got a job as a mechanic of electric motors, with a one-year interruption due to my service in the US Army, I was busy repairing electric motors and later washing machines.
In 1955 I started my own company and expanded this company with eventually eleven employees and in that same year I got married.
Gary married, at the age of 25, on Saturday August 6, 1955 in New York City, United States, with Marcia Leah Drazner , 21 years old.
Marcia was born on Saturday February 3, 1934 in Bronx, New York, United States, daughter of Charles Drazner and Jeanette Glazeroff.
Marcia died on Sunday May 27, 1990 on Santa Monica, California, United States, at the age of 56 years.
Gary and Marcia had two children: Fern Eichenwald and Wesley (Wes) Eichenwald .
At about the age of 61, Gary married about 1991with Harriet who also writes all emails for Gary, as Gary dictates her.
Righteous among the Nations
In 2001 I retired and since then I try to give the Bloem family (posthumously) the Yad Vashem, Yad Vashem means "Righteous Among the Nations".
Yad Vashem is the official state institution of Israel for commemorating the Jewish victims of the Holocaust and the saviors of Jews, the recognition has so far been refused by the Israeli state department.


In addition to the Yad Vashem, let this "story" be a token of appreciation for the respectable Bloem family and the many others who have contributed to this.



Gert tells that he was moved to tears to experience how so many years after the Holocaust, in the municipality of Cranendonck, there is still attention for the tragic war experience of the Eichenwald family, Gert has lost eighteen family members in the Holocaust, Gary was deeply affected by the loss of his father at a young age.
Every week I go to the synagogue to pray a "Kaddish", the prayer for the deceased, for my family who died in the Holocaust.
My mother died on

September 28, 1994

, I still have good contacts in the Netherlands with the daughter of Ben Blankenstein who hid my cousin Rolf, my uncle Henry and aunt Maddie.
They were betrayed by a Dutch woman from Soest, who had people hiding in her house, but exploited them (other sources speak of an acquaintance) and were subsequently arrested by the SS, all died as described earlier, except Maddi Bernstein-Heumann, who survived the camps.
The Blankenstein family were even at the wedding of my son Wesley in 2003.
The photo of Gary with the portrait of his nephew Rolf was taken in Hilden in 2006, at the time of the laying of two "Stolpersteinen" or stumbling stones for Rolf and his father Henry on Mettmannerstrasse, where they had last lived, before they decided to flee to the Netherlands.
see HERE a short report made by Der Spiegel magazine in the same year 2006.
After the war, the Bloem family was invited for several times to receive recognition, from a specific department of the State of the Netherlands in The Hague, the Bloem family did not respond to that, for them, by the way, it was the most obvious and normal thing in the world to help people in need regardless of race, status or belief.
This is supported by a deep belief, interesting to mention that Henrik Bloem was of Protestant descent and his wife Lucia van Koolwijk was of Catholic descent.
One well-known proverb from those days gone by is this one "two beliefs on a pillow the devil sleeps in between", considering Hendrik and Lucia were been married for more than fifty years, the "devil" must have been pretty grumpy!

Hendrik and Lucia had made the agreement at their marriage that the children were raised according to the Catholic doctrine, something Hendrik also closely monitored.
Another reason they didn't want recognition that so-called 'resistance people' came forward at the end of the war, a number of those "so-called members of the resistance" were later unmasked as scammers, Incidentally, there were only a handful of these people who knew the Bloem family as "members of the resistance".

Stumbling stones or Stolpersteine
On August 27, 2009, Gert was present at the unveiling of three "stumbling stones" (Stolpersteine, see photo below) on the sidewalk in front of the house, where the Eichenwald family once lived, Hauptstraße 46 Benrath, Düsseldorf, Germany
Stumbling Stones placed in honor of my father Walter Eichenwald (1900-1943), my uncle Paul Blumenfeld (1902-1943) and my aunt Helene Heumann-Blumenfeld (1904-1944).
I want to thank the Bloem family and thanks to them and all the helpers from that time so that we can enjoy a beautiful old age.

Web pages were created about the Eichenwald - Heumann an Albersheim families, click on the family name to read and view it.
Continued on pilot Allen Vincent McIntosh (1920-1949)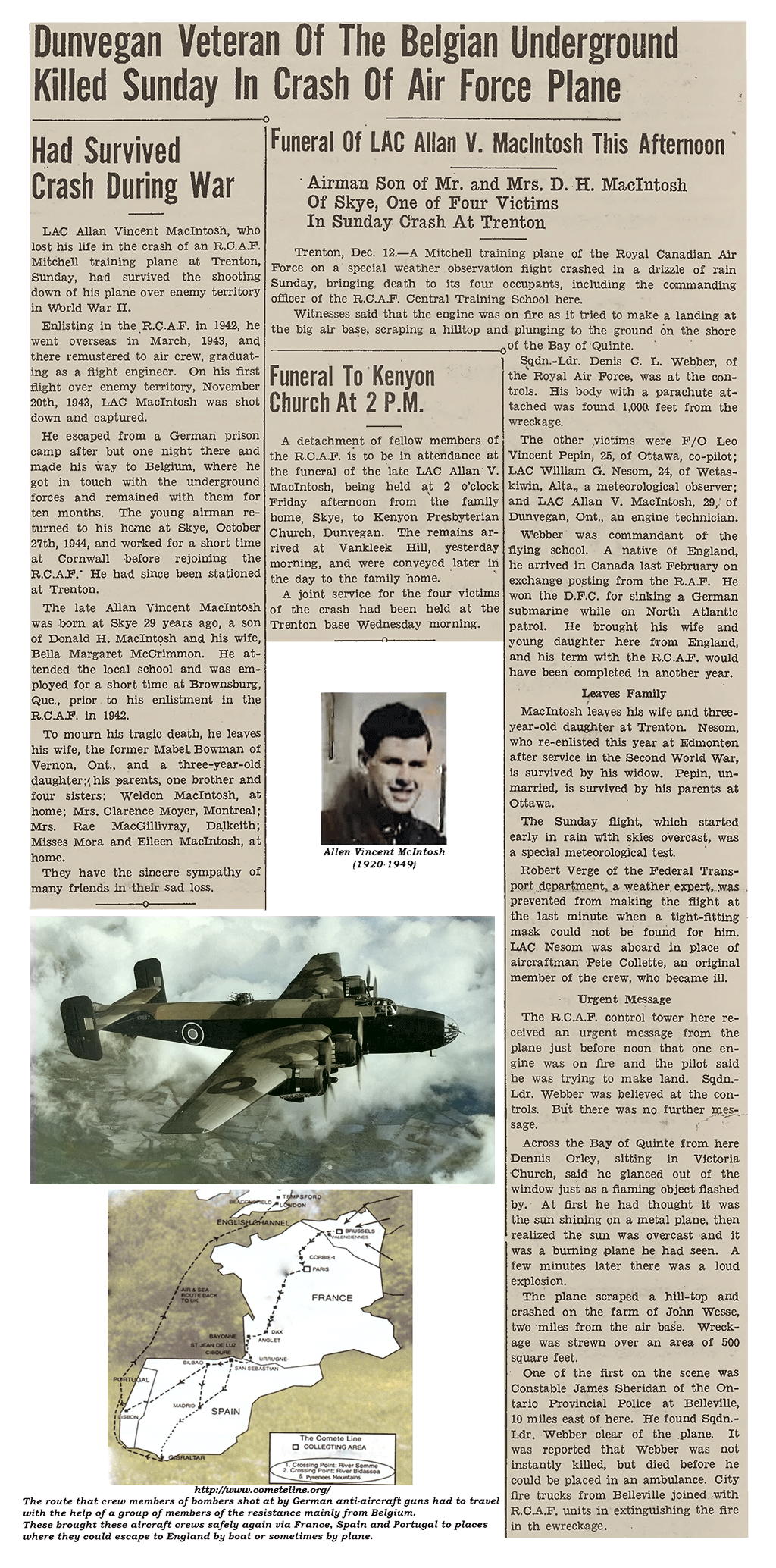 Source references
My thanks go to;
René Vos the author of the Dutch version and for his cooperation and permission and don't forget the photo material, appreciated thanks for this.
Foppe de Lang; Information about the Village Nuenen
Mrs. Thea Blankenstein from Soest, the Netherlands for the necessary additions and corrections.
Central Bureau for the Genealogy(CBG)
WhoWasWho - in Dutch WieWasWie (the largest "Free" genealogical website in the Netherlands)
Wikipedia and American Air Museum in Britain
AA chronicle edition 2011 no. 3.
Interview Mrs. Greet Albers-Dings, Maarheeze
Interview Mrs. Lies van Gansewinkel-Bloem, Maarheeze
Wikipedia / The Holocaust
Personal mémoires and documentation mr. Gary (Gert) Eichenwald
Wesley Eichenwald for visiting his collection of photos from and about the Eichenwald family and relatives.
Notice:
This webpage has been adapted and corrected on some points, I have re-selected the genealogical research with the help of the CBG and WWW, my thanks go to Mrs. F. Peelen, who took care of the personal card of the Bloem family.
English translation and editing by the
The Ancestor Company
All rights reserved,
Thanks to various archive institutions for making certain images and facts available.
Copyright © Genealogybos.com 2023.