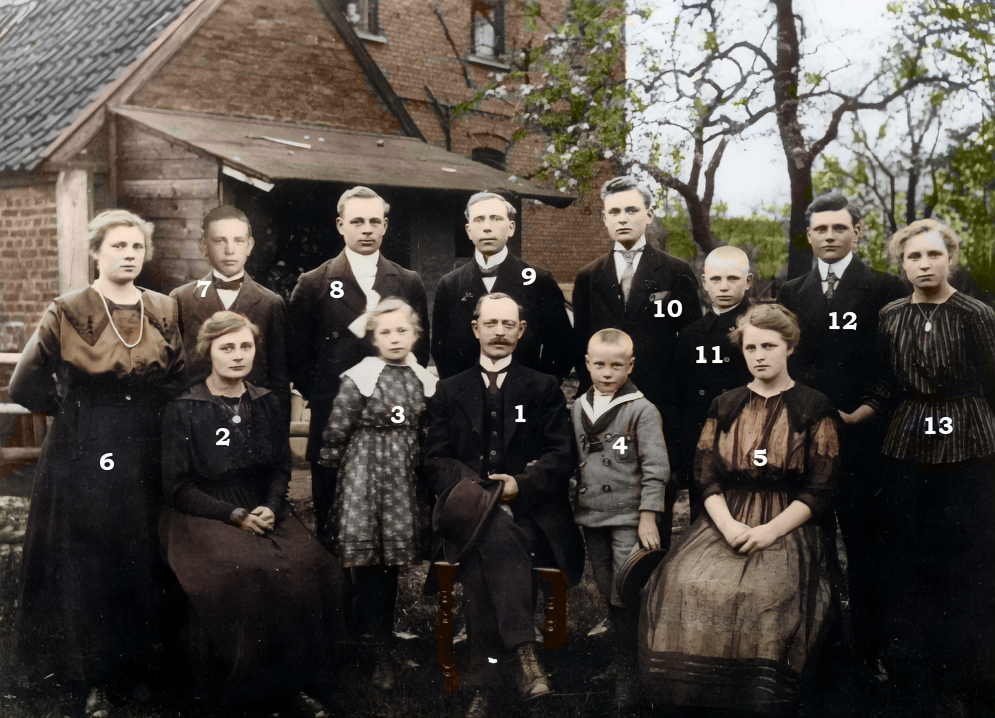 01) Hermanus (1867-1936)
02) Johanna Catharina (1891-1950)
03) Maria (1909-1951)
04) Dietrich (1911-1953)
05) Marrigje Willempje (1897-1984)
06) Liesbeth (1899-1964)
07) Thomas Cornelius (1902-1972)
08) Johannes (1892-1949)
09) Anthonie (1890-1951)
10) Hermann (1901-1970)
11) Wilhelm Karl (1906-1980)
12) Hendrik (1895-1959)
13) Kornelia Petronella (1904-1967)
Opmerkingen:
Cornelia Oosterom, de echtgenote van nummer 1 en moeder van het afgebeelde gezin, was ten tijde dat deze foto werd genomen reeds overleden en wel op woensdag 17 maart 1915 in Dinslaken, Duitsland, 45 jaar oud.
Thomas Cornelius (7) was ten tijde van de foto-opname niet aanwezig, zijn afbeelding is er later aan "toegevoegd" zoals te zien is.
Fotograaf is onbekend, de opname is gemaakt in Hiesfeld, Dinslaken, Duitsland ± in het jaar 1916
Remarks:
Cornelia Oosterom, the wife of number 1 and mother of the family depicted, had already died at the time this photo was taken on Wednesday March 17, 1915 in Dinslaken, Germany, at the age of 45 years.
Thomas Cornelius (7) was not present at the time of the photo recording, his image was later "added" to it as can be seen.
Photographer is unknown, the picture was taken in Hiesfeld, Dinslaken, Germany. ± in the year 1916
Bemerkungen:
Cornelia Oosterom, die Frau von Nummer 1 und Mutter der abgebildeten Familie, war bereits gestorben, als dieses Foto am Mittwoch, dem 17. März 1915, im Alter von 45 Jahren in Dinslaken aufgenommen wurde.
Thomas Cornelius (7) war zum Zeitpunkt der Fotoaufnahme nicht anwesend, sein Bild wurde später "hinzugefügt", wie zu sehen ist.
Fotograf ist unbekannt, das Bild wurde in Hiesfeld, Dinslaken, Deutschland aufgenommen. ± im Jahr 1916
Met dank aan, Thanks to, Vielen Dank an, Beate von Laar-van Ravenswaaij.






The Ancestor Company
Alle rechten voorbehouden,
All rights reserved,
Tous droits réservés,
Alle Rechte vorbehalten.
Met dank aan diverse archiefinstellingen voor het beschikbaar stellen van bepaalde afbeeldingen en feiten.
Thanks to various archival institutions for making available certain images and facts.
Nous remercions diverses institutions d'archives pour la mise à disposition de certaines images et de certains faits.
Mit Dank an verschiedene Archivinstitutionen für die Bereitstellung bestimmter Bilder und Fakten.
Copyright © Genealogybos.com 2023
English translation and editing by the
The Ancestor Company
All rights reserved,
Thanks to various archive institutions for making certain images and facts available.
Copyright © Genealogybos.com 2023