Herman Coenraad Pootjes (1889-1966) & Jacoba Licht (1891-1977)
1923.
Herman Coenraad Pootjes worked in all likelihood in the twenties last century in England, from where he left for America with S.S.Ausonia of the Cunard Line from Southampton (UK) (Emigration)

Departure from Southampton was on Saturday, April 21, 1923, arriving in New York on Wednesday, May 2, 1923, Herman Coenraad took the train to Rouses Ponit NJ the so-called Rutland Railroad, where he arrived on May 6, 1923, probably had he found temporary work through connections.
On September 2, 1923, he returned to New York to retrieve his future wife Jacoba Licht of the ship in New Jersey, Hoboken home of H.A.L, after which they resided in 66 N Willow Street, Montclair, United States, it was their residential address in Montclair.


Jacoba Licht, his future wife in 1924, left Rotterdam with the S.S.Rijndam on Tuesday, August 21, 1923, arriving in New York on Sunday, September 2, 1923, Jacoba traveled second class.

.
All First and Second Class passengers could after a short medical examination (usually were asking) directly disembark in the port, so they did not need through Ellis Island.
Jacoba was able to disembark immediately and continue her journey.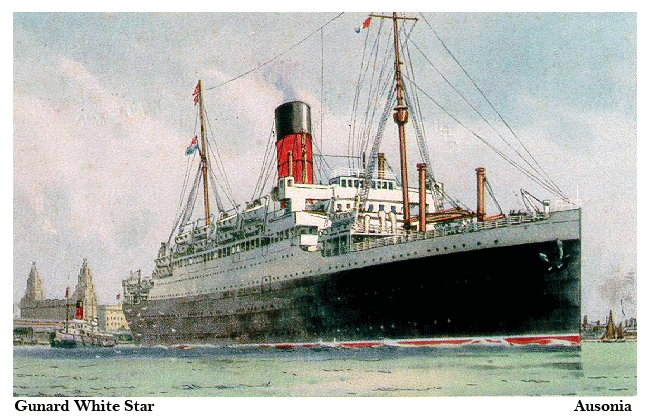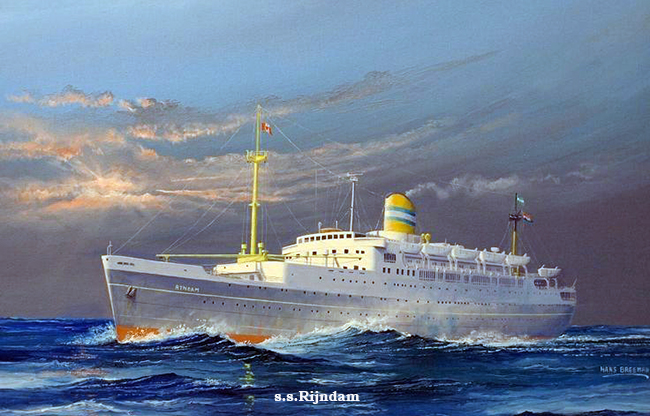 Marriage 1924.
Jacoba and Herman were both single when they emigrated to the United States but later married on Sunday, February 17, 1924, Montclair, New Jersey, United States.
1926.
Jacoba had been visiting family in the Netherlands in 1926, without Herman and daughter, she left Rotterdam on Tuesday, August 17, 1926 with the S.S.Nieuw Amsterdam (Blog captain Albert) to the United States..
Arrival at New York on Saturday, August 28, 1926, Jacoba traveled "Steerage", which would be named later as the Tourist Class.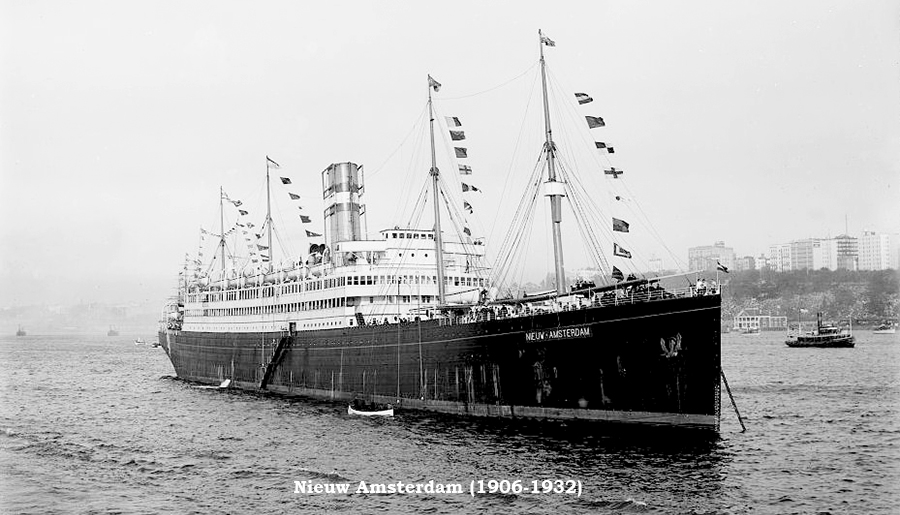 Below is a copy of a census of April 4, 1930.


Naturalization.
Herman and Jacoba are both naturalized to American citizens, Herman in May 1930 and Jacoba on April 7, 1931.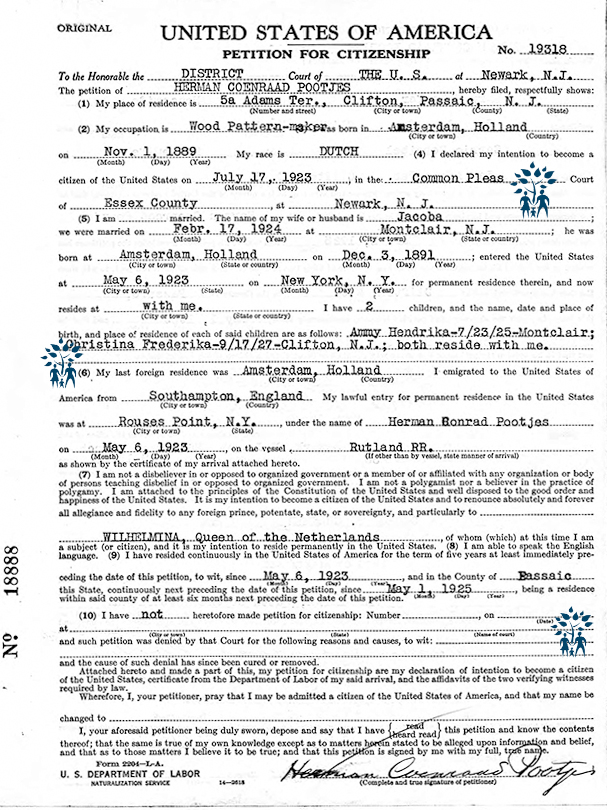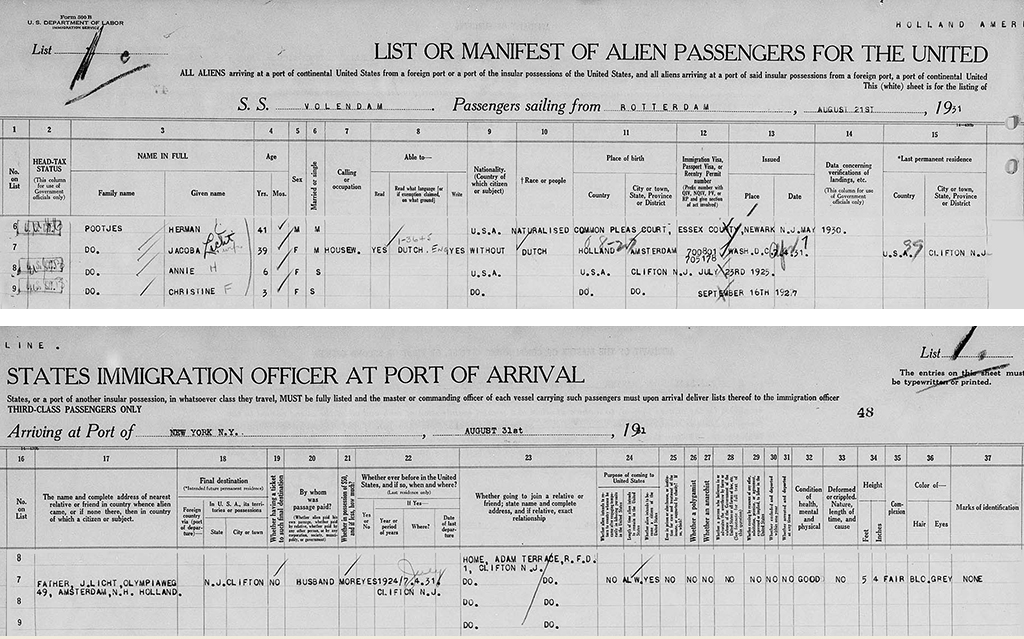 1931.
Herman and Jacoba and their two daughters Anne Hendrika and Christina Frederika had visit family once again in the Netherlands, the journey back to the States went via Rotterdam .
They left on Friday, August 21, 1931 with the S.S.Volendam, arriving in New York on Monday, August 31, 1931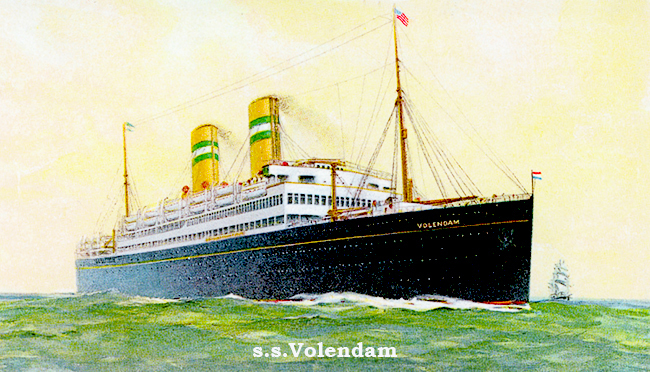 1938.
Jacoba, without husband Herman Coenraad, but with both daughters Anne Hendrika and Christina Frederika have been visiting the Netherlands again, the return trip was this time via Antwerp.


Jacoba left with both daughters from Antwerp with the S.S. Koenigstein (S.S. Königstein) on Saturday, August 13, 1938, arriving in New York on Tuesday, August 23, 1938

.
In January 1941, Jacoba's father, Jacobus Licht (1856-1941) died in Haarlem (Nh), since the Second World War had been raging in Europe for a year, of course Jacoba could not be present at the funeral.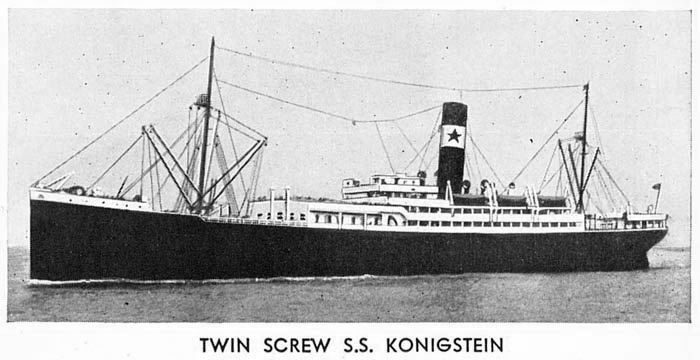 1942.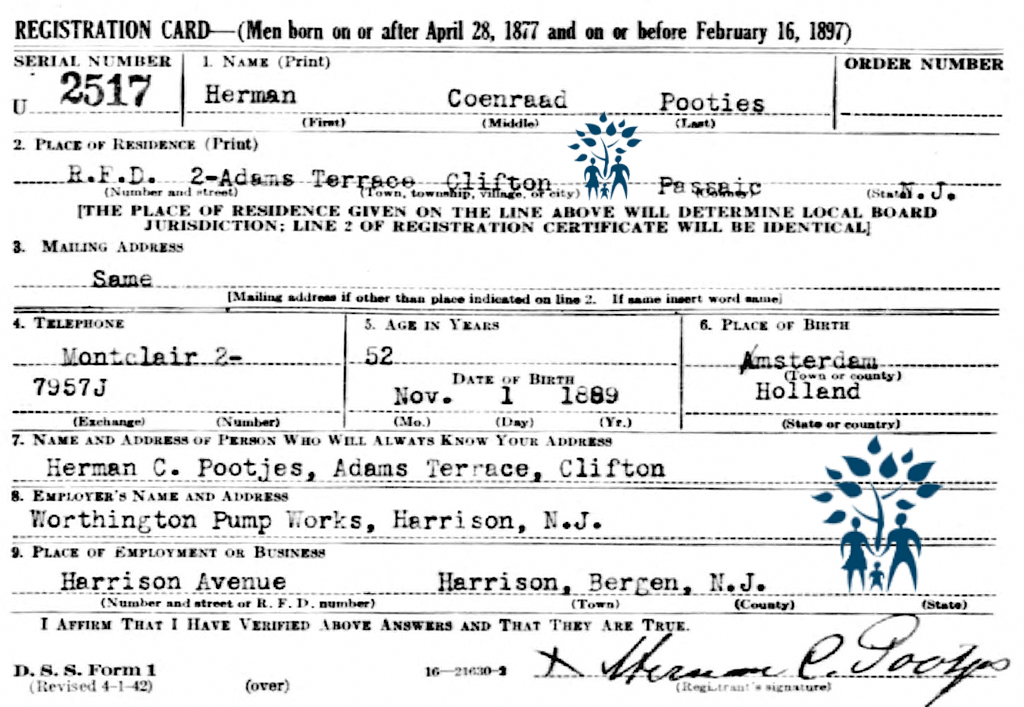 Herman Coenraad Pootjes received a call for military service in 1942.
1952.
Herman Coenraad, Jacoba and daughter Christina Frederika (Anne Hendrika died at the age of 25 of the Hodgkin's disease in 1951) had been visiting family once again in the Netherlands.
They returned to America via Rotterdam on Saturday, September 20, 1952 with the S.S.Maasdam, arriving in New York on Monday September 29, 1952.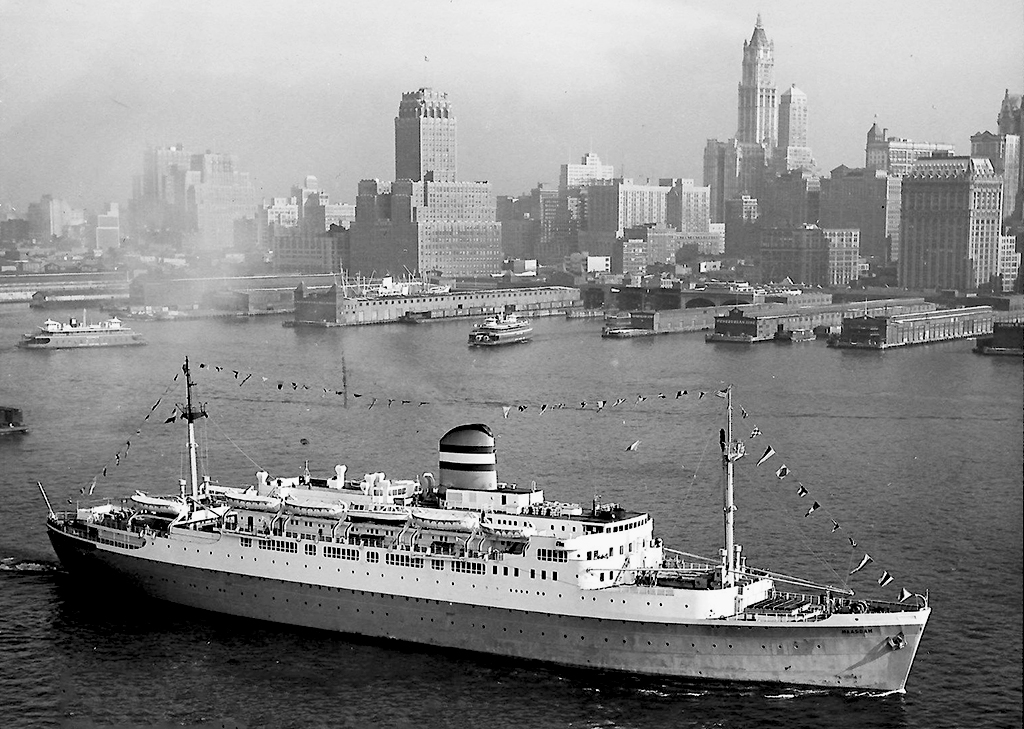 S.S Maasdam here in New York on the way back to Rotterdam 1952
1953.
Herman and Jacoba also visited Bermuda in 1953.
They flew with Colonial Airlines Inc. they land at Kingfield Airport in Bermuda and on the return journey they land on LaGuardia Airport New York on Saturday, July 25, 1953.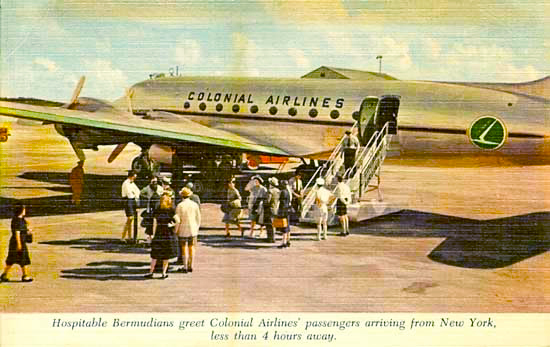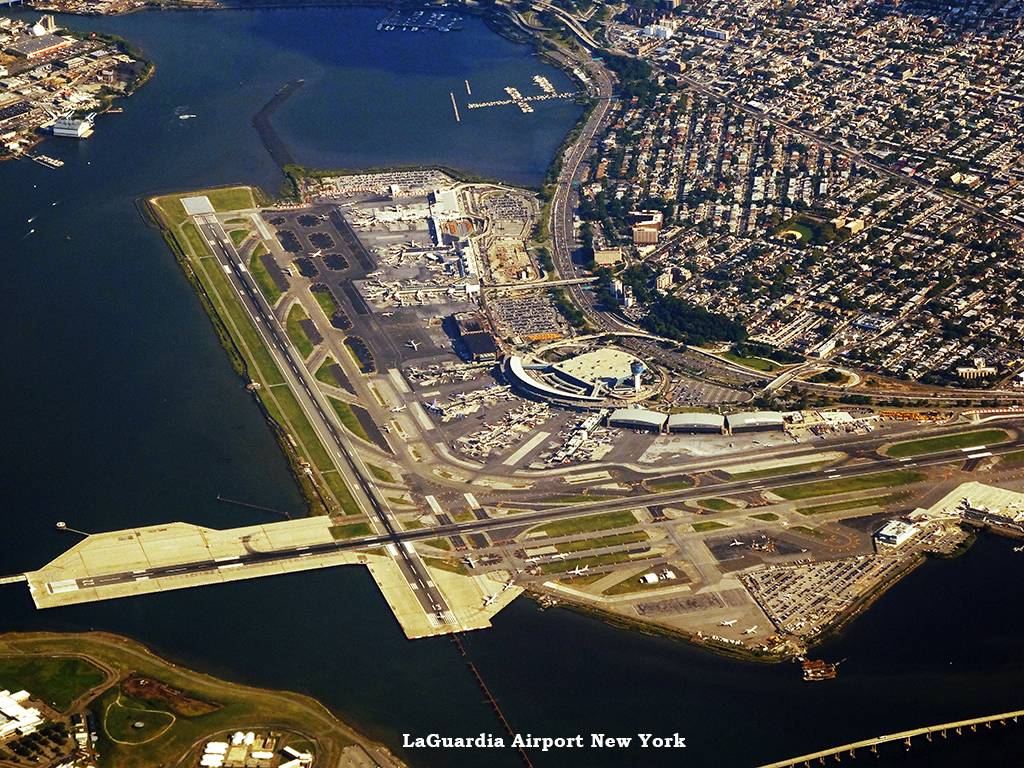 Christina Pootjes 1947.
There are no data indicating that Herman and Jacoba have traveled to Europe again, although the sister of Herman Coenraad, Christina Pootjes, born on Wednesday, January 26, 1887 in Amsterdam, visited her brother, sister in law and nieces in 1947 and she was in the company of Johan Jacob Christian van Balen, born on Saturday February 3, 1894 in Amsterdam, who was registered at the same (temporary) address as Christina and that address was the residence of Herman and Jacoba 5 Adams Terrace, Clifton, New Jersey, United States.
Sister Christina flew with J.J.C.van Balen to South Africa for a stay of two months, as stated on the ticket "Pleasure two months" or a generous long vacation.

They stayed in, 6 York Road, Parktown, Johannesburg, Gauteng, Zuid-Afrika.
They flew on Sunday, August 17, from New York to South Africa, what relationship Christina and J.J.C. van Balen had with each other is unknown to me.
With special thanks to Don B. Kelderman. - Copyright © Genealogybos.com 2023. All rights reserved.





The Ancestor Company
Alle rechten voorbehouden,
All rights reserved,
Alle Rechte vorbehalten,
Copyright © Genealogybos.com 2023