Hotze Ruurds de Jong, born on Wednesday April 21, 1858, son of Ruurd Hotzes de Jong and Wytske Roorda, Hotze married Antje Terpstra on Saturday May 26, 1883, born on Thursday October 25, 1860 in Wirdum, daughter of Nanne Annes Terpstra and Janke Jacobus van Althuis.
Hotze and Antje had seven children: Ruurd, Nanne, Sytze, Jitske, Pietje, Janke and Johannes.
Hotze and Antje lived in a double house on Kerkstraat, from here Hotze maintained a delivery service between Buitenpost and Kollum.
The company was rather small-scale; first his means of transport was a dog cart, later a horse and cart.
Because he could not exist from this work, he dug graves in the cemetery and rang the bell, whether it belonged to the church is unknown..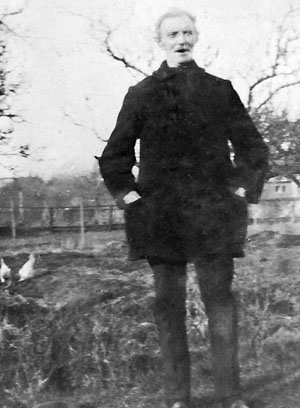 Hotze liked to have a drink and on the way he lit at every tavern, supposedly to hear if there was any cargo left; but it was really for him to have a drink.
His horse, which he called Pete, knew every café between the municipality of Buitenpost and Kollum. Hotze didn't have to tell Pete to stop, Pete did that on his own; he knew his boss's needs.
His parents Ruurd and Wytske bought a small farm in the municipality of Hardegarijp, but it didn't work, then they bought a small farm on the East in the municipality of Buitenpost.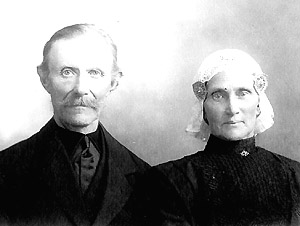 Hotze de Jong & Antje Terpstra ±1908


Everyone in the two villages and along the way, Hotze entrusted his goods, they took good care of them. Hotze was very alert, especially when transporting valuable items.
In order to guard the goods and keep himself away from any thieves, he had a large walking stick with a lead button with him.
The only problem Hotze had was that he enjoyed a drink too much.

The story goes that one day he had to transport a barrel of gin.
Hotze placed the barrel so high on a box that while driving he could catch drops from the leaking tap; Meanwhile Pete the horse walked on quietly.
The youth also enjoyed taking Hotze "fiter" (fooled), when Hotze was in a cafe again, they stretched out his horse so that the horse was standing in front of the wagon.
When Hotze stepped out and said "fuort Pete", the horse started walking, the cart with Hotze stopped where it stood.
Once, when Hotze was at Café Bolling, they tied a wooden bicycle rack that stood in front of the Popke Bakker store at the back of his cart.
When Hotze drove away, the boys thought that Hotze had not seen it, when he got home, he was already shouting from afar to his wife, "Antsje, I ha get some firewood," or in good "Dutch", Antje, I brought some firewood. he grabbed an ax and smashed the bike rack into pieces.
At an old age, Hotze stopped his parcel delivery and grave digging. He continued to ring the bell.
If he had a bad day, he let his grandson Hotze help him. Hotze died at the age of 78 on Tuesday June 16, 1936 in Achtkarspelen, province of Friesland
His wife Antje went to live with her daughter Janke in The Hague, Antje died on Thursday, March 18, 1948 in The Hague (Zh)





The Ancestor Company
Alle rechten voorbehouden,
Met dank aan diverse archiefinstellingen voor het beschikbaar stellen van bepaalde afbeeldingen en feiten.
Copyright © Genealogybos.com 2019.