Family doctor Jansen in Uithoorn, the Netherlands
Uithoorn
Marriage of Dr. Johan Marius Andreas Peter Joseph (Hans) Jansen & Maria Joanna Theresia (Mies) van den Bergh, on Thursday, October 15, 1942 in Haarlem.
Above:1944 the emergency hospital in the "court house" in Uithoorn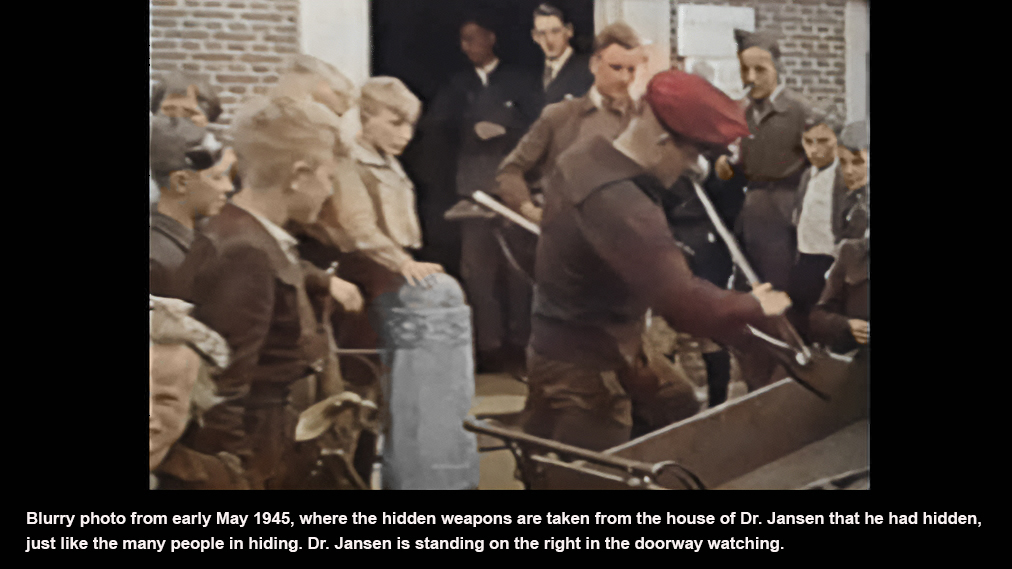 Below a short report by Francine van den Bergh, a cousin of "Mies" Jansen-van den Bergh about
"The house of my uncle Hans and aunt Mies", beautiful memory!
For example, you could reach different floors through the walls in the house unseen.
Many people were in hiding or went into hiding in World War II. Almost no one knows! Jewish people as well as Canadian / English pilots and aircrews got shelter here in this house, only at the end of the war it became more and more known, but during the occupation years nobody knew anything except a few initiates.
A Canadian pilot who had landed with his parachute in the Zijdelmeer is under the floor of our house, again through the house of Dr. Janssen returned safely to Canada, that "return" took a few months via Belgium, France and Spain and / or Gibraltar.
And then the parties of the youth above Aunt Mies' pharmacy!
And that the house was slyly demolished in the 2nd half of the 1980s for the property developers' money! Scandalous!,
Although it was listed as a monument, many people had an underhand raunchy "hand clap" with a shady project developer and a contractor, and don't forget that the entire city council looked the other way, oh well "Money makes Power!")
The webmaster does not take any responsibility for the statements made above, this is from various Facebook pages about Dr. Jansen and some other facts that took place in Uithoorn.
Below are several photos of Uithoorn with the house / practice of Dr. Jansen
Uithoorn anno 1925 - Red Arrow the house / practice of Dr. Jansen
Grocery Jan van 't Cross ± 1930 at the Dorpsstraat 30..
At the far right is a part of the house of Family doctor Jansen (is demolished in the 1980s)
Village-street 28, Uithoorn photo was taken on Tuesday October 1, 1968
October 9, 1961 Dorpsstraat with the house / practice of Family doctor Jansen on the left
± 1962 Dorpsstraat Uithoorn, where the children walk is the Princess Irenelaan, on the left a small facade of number 28, the house / practice of Family doctor Jansen, the house / practice was directly opposite the Prinses Irenelaan.
date unknown but maybe early 60s
Family of Family doctor Jansen are ready to go on holiday, the car was a Ford Customline 272, V8 engine from 1956, the consumption was ± 1 in 6? ( thanks to JP van Dam)
Photo dates from 1959
1956 Ford Customline specifications
The standard engine for the 1956 Customline was a 3.6 liter six-cylinder that delivered 137 hp.
A Ford Y-Block 4.5 liter V-8 with 176 hp was also available.
The Y-Block Ford V-8 replaced the flat head and was Ford's first OHV V-8 engine.
The Y blocks were built from 1954-64 and were used in Fords, Mercurys, Edsels and Ford trucks.
The engine has a deep plinth and makes the block resemble the letter Y.
Standard gearbox was a five-speed manual gearbox or a automatic three-speed was optional.
Brakes were four-wheeled hydraulic drums. Power steering was offered as an option.
Car dimensions
Wheelbase: 115,50 inch . Total length: 198,50 inch . Width: 75,90 inch. Height:62,10 inch . Empty weight: approx 3,575.90 pounds.
Original base price was at the time approximately 3679 guilders (± $ 1800, - (€ 1669) in America, the car here would have had to cost considerably more at the local Ford dealer.
1963 - Dorpsstraat 28. Home dokter Jansen - - see red arrows
Uithoorn 1964 look Here Uithoorn anno 2019
Painter unknown
Dorpstraat 28 Uithoorn, house practice of Family doctor Jansen 1965 (right)
Dorpstraat 28 Uithoorn, house practice of Family doctor Jansen 1965 (left)
Then the drivers were still in a kind of neat suit + cap and tie behind the wheel, which was called company clothing
On the right with flagpole the house / practice of Family doctor Jansen ± 1975, probably Queensday on April 30 (Juliana)
House and practice Dr.Jansen + Pharmacy at the Dorpsstraat 28 in Uithoorn photo was taken on Tuesday, October 1, 1968
Frontage of a single-storey building to the right of Dorpsstraat 28, Uithoorn, ±

1986 - Pharmacy Family doctor Jansen
Rear facades of the buildings at Dorpsstraat number 26 and 28 in Uithoorn ± '80. Number 26 was the former pharmacy and number 28 was the house and doctor's practice of Family doctor Jansen (1914-1984) picture ±1986.
Dorpsstraat Uithoorn 1982 These buildings also escaped the demolition bullet, sometimes rightly so, but others certainly not.
Former house / general practice of Family doctor. Jansen Dorpstraat 28 Uithoorn, May 2016
J.M.A.P.J. Jansen died on Monday September 10, 1984 in Santa Úrsula, Santa Cruz de Tenerife, Spain, aged 69, living Family doctor, in Uithoorn.
CLICK HERE for more pictures and places of interest of the place Uithoorn, I myself do not have any social media account, I will stay very far away from it !!
CLICK HERE for a video of General Practitioner Jansen together with his wife who ran the pharmacy, can be seen together in this video/film from the year 1977.





The Ancestor Company
Alle rechten voorbehouden,
All rights reserved,
Copyright © Genealogybos.com 2023
The Ancestor Company, beëindigd per 31 december 2019, website blijft online.
The Ancestor Company, by December 31, 2019 Genealogy terminated website remains online.
The Ancestor Company, terminée le 31 décembre 2019, le site Web reste en ligne.