Ongevallen Nederland in de jaren "60
Accidents in the Netherlands in the 1960s
Een aantal foto's van ongevallen op de openbare weg in Nederland in de jaren '60 van de 20e eeuw.
A number of photos of accidents on public roads in the Netherlands in the 60s of the 20th century.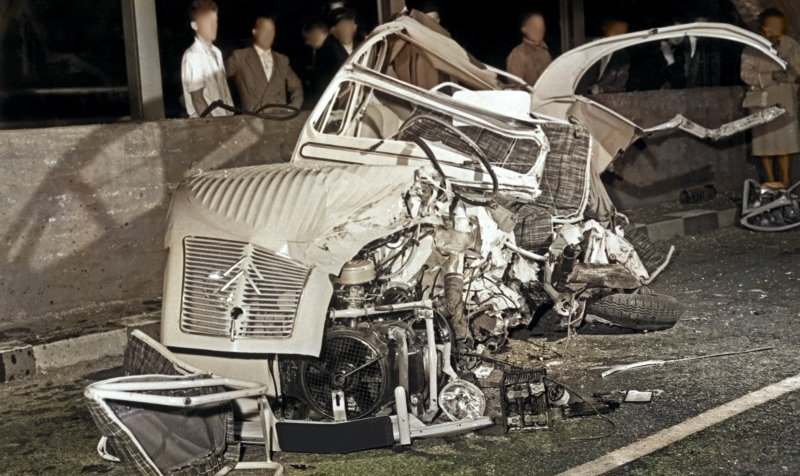 18 augustus 1960-AMSTERDAM - Op de Rijksweg 2 van Amsterdam naar Utrecht ter hoogte van Maarssen, botste een Lelijke eend (Citroën 2CV), op een tegenligger.
De bestuurder raakte ernstig gewond, van de auto was alleen nog een berg schroot over. (Auteur ANP PHOTO ANP/HMR)
Augustus 18, 1960-AMSTERDAM - On the Highway 2 from Amsterdam to Utrecht near Maarssen, an Ugly Duck (Citroën 2CV) collided with an oncoming car.
The driver was seriously injured, only a mountain of scrap was left of the car. (Author ANP PHOTO ANP / HMR)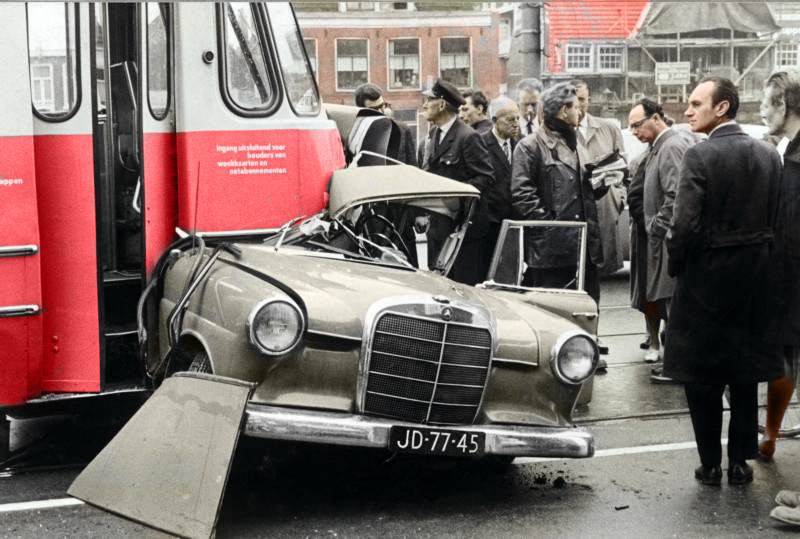 28 april 1964 - AMSTERDAM - Een tram kwam met een personenwagen in botsing op de Amstelveenseweg.
De bestuurder van de auto gaf geen voorang aan de tram, een frontale botsing was het resultaat, de bestuurder van de auto overleefde het ongeluk niet. (Auteur+Photo:ANP Ruud Hoff)
April 28, 1964 -

AMSTERDAM - A tram collided with a passenger car on Amstelveenseweg.


The driver of the car did not give priority to the tram, a

head-on collision was the result, the driver of the car did not survive the accident.




(Author + Photo: ANP Ruud Hoff)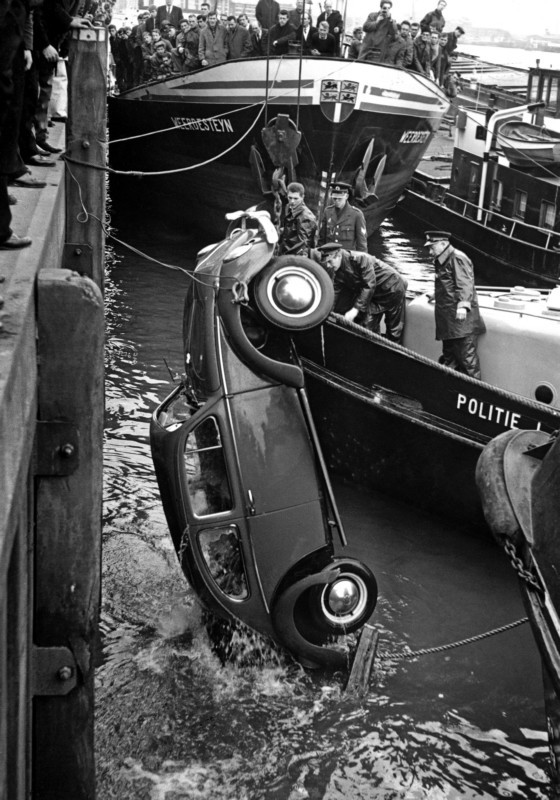 18 februari 1965
Bij het parkeren aan de Rotterdamse Westerkade belande een auto in de Maas.
De chauffeur overleefde het ongeval niet.(Bron: ANP photo)
Overigens kun je niet meer langs het water parkeren zoal u ziet op Google Maps
February 18, 1965
When parking at the Rotterdam Westerkade, a car ended up in the Maas.
Incidentally, you can no longer park along the water as you see on Google Maps
The driver did not survive the accident.(Source: ANP photo)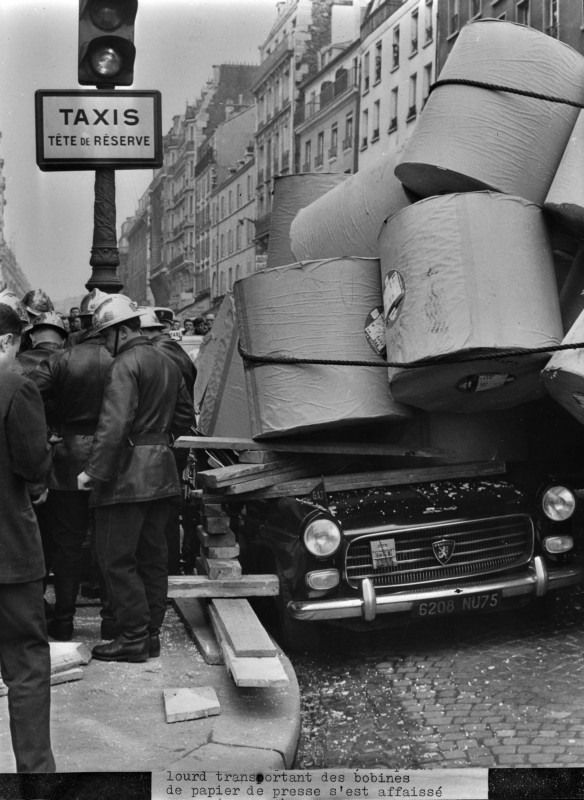 24 maart 1965-Parijs-taxi-ongeluk. Deze parijse taxi werd verpletterd door een lading kranten-papier.
Van een zware vrachtwagen bezweek de achteras waardoor de tonnen papier aan de rol gingen.
De taxichauffeur stapte geschrokken uit hij had slechts lichte verwondingen opgelopen. (Auteur: Afp)
March 24, 1965 -Paris taxi accident. This Parisian taxi was crushed by a load of newspaper.
The rear axle of a heavy truck collapsed, causing tons of paper to roll.
The taxi driver got out, shocked, he had only sustained minor injuries. (Author: Afp)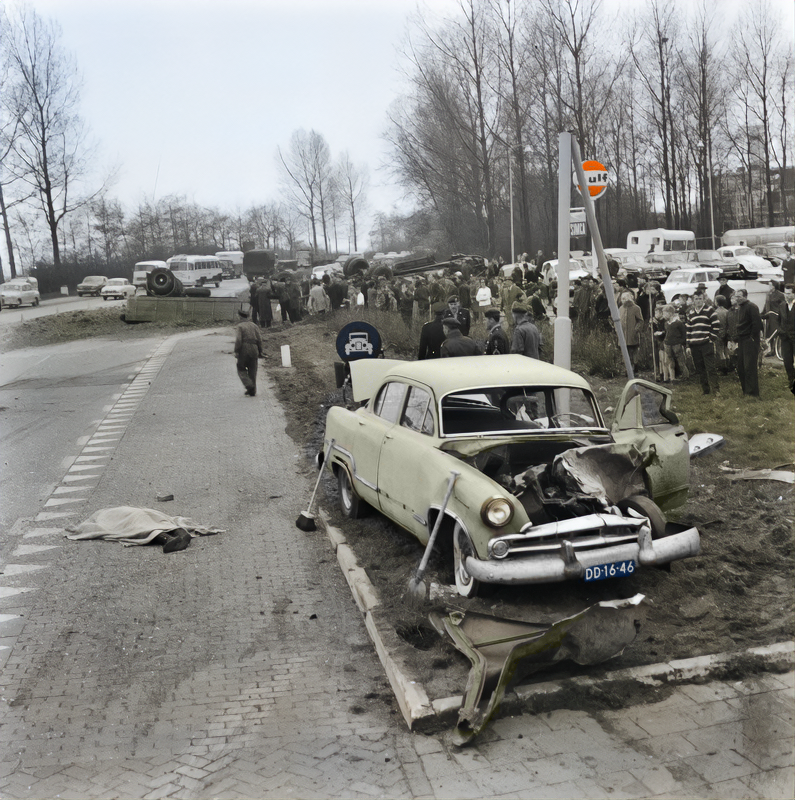 8 april 1965-Op rijksweg 58 bij Roosendaal zijn donderdag twee inzittenden van een personenauto om het leven gekomen terwijl een derde zeer ernstig gewond naar een ziekenhuis is overgebracht.
De wagen, een 1953 Dodge Coronet DD-16-46 die uit een zijweg kwam werd aangereden door een vrachtauto met aanhangwagen geladen met klei.
De vrachtwagen is nog ca. 50 meter doorgeschoven en daarna gekanteld.
Op de foto ligt een van de dodelijke slachtoffers onder een deken, de zwaar beschadigde personenauto en op de achtergrond de gekantelde vrachtwagen. (Auteur: Corr)
April 8, 1965-On highway 58 near Roosendaal, two occupants of a passenger car were killed on Thursday, while a third was very seriously injured and taken to a hospital.
The car coming out of a side road was hit by a truck with a trailer loaded with clay.
The truck was pushed for another 50 meters and then overturned.


In the photo, one of the fatalities is under a blanket, the heavily damaged passenger car and in the background the overturned truck.

(Author: Corr)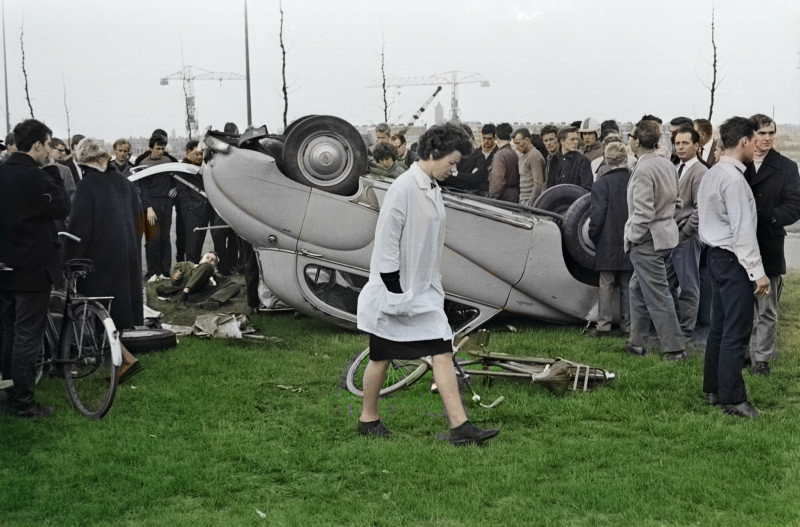 28 april 1965
Op de Buitenveldertselaan in Amsterdam slipte woensdagmiddag een personenauto die plotseling moest remmen.
De wagen belandde ondersteboven in de middenberm.
Drie personen werden hierbij gewond. (Auteur: Cor Mulder)
April 28, 1965
On the Buitenveldertselaan in Amsterdam, a passenger car slipped on Wednesday afternoon and had to brake suddenly.
The car ended up upside down in the central reservation.
Three people were injured. (Author: Cor Mulder)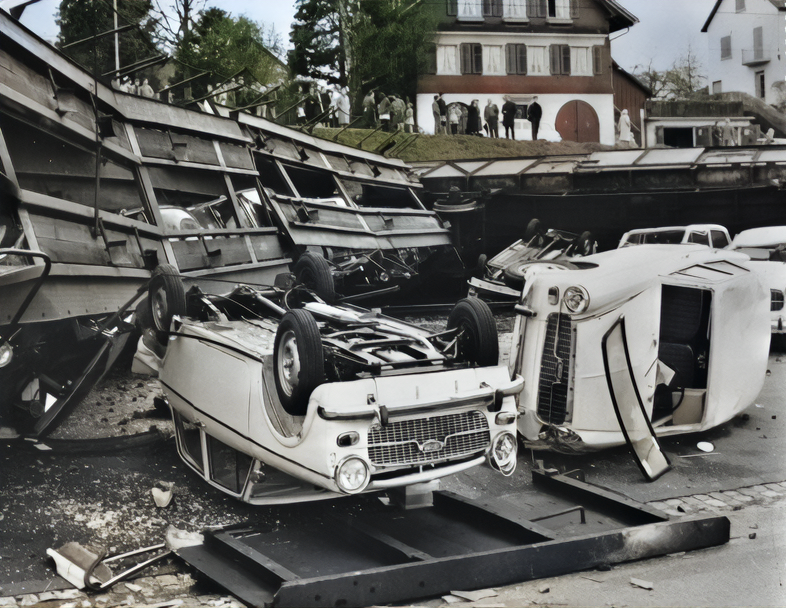 29 april 1965-Ten gevolge van een asbreuk zijn 17 wagons van een goederentrein ontspoord bij Andelfingen in Zwisterland.
Hierbij werd ondermeer een groot aantal fabrieksnieuwe personenauto's zwaar beschadigd of vernield. (Auteur: Ring)
April 29, 1965 -Due to an axle fracture, 17 wagons of a freight train derailed near Andelfingen in Switzerland.
Among other things, a large number of brand-new passenger cars were heavily damaged or destroyed. (Author: Ring)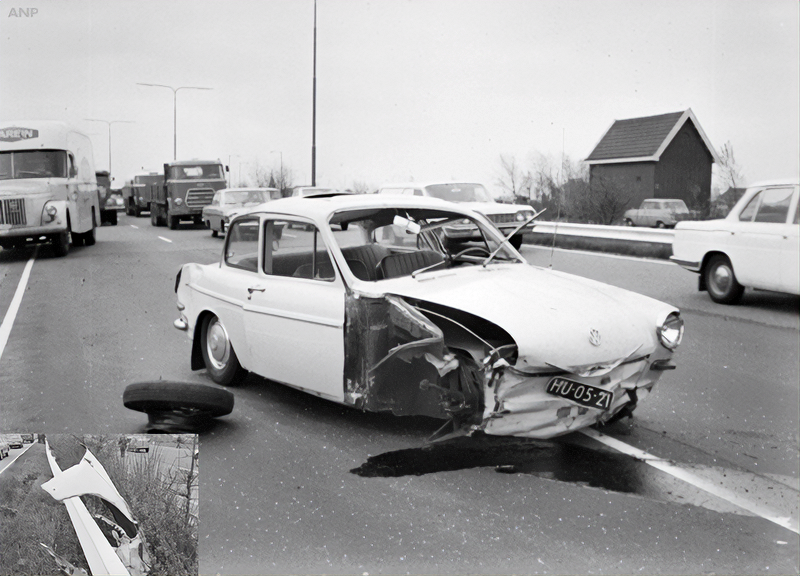 11 mei 1965.
Op A13 van Den Haag naar Rotterdam vloog dinsdagochtend een personenauto door de middenberm precies op de plaats waar de vangrail begint.
Het rechtervoorspatbord en het rechtervoorwiel van de wagen werden door de vangrail afgerukt; persoonlijke ongevallen deden zich niet voor. (Auteur: G. V.d. Heijden)
May 11, 1965.
On Tuesday morning, on the A13 from The Hague to Rotterdam, a passenger car flew through the central reservation exactly where the crash barrier begins.
The right front fender and the right front wheel of the car were torn off by the crash barrier; personal accidents did not occur. (Author: G. V.d. Heijden)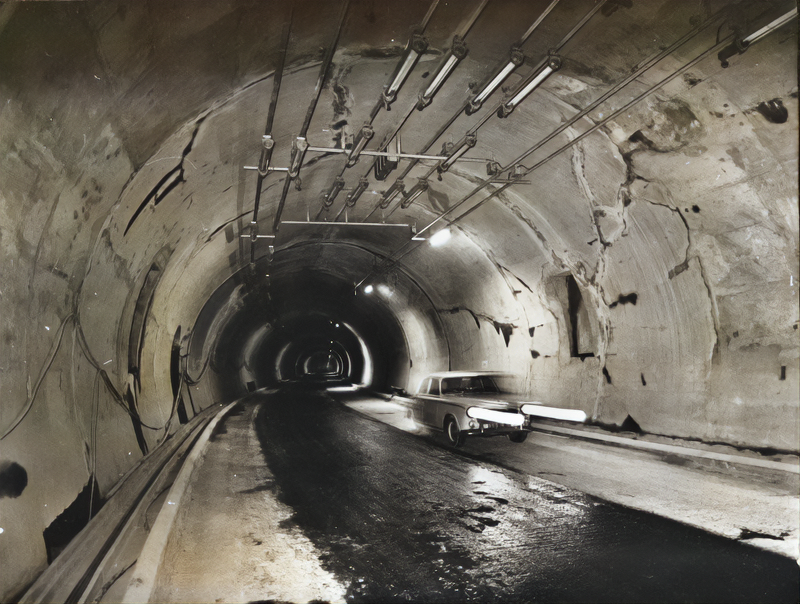 2 juni 1965
Chamonix-Mont-Blanctunnel
De 11.6 km lange autotunnel door de Mont Blanc zal binnenkort voor het verkeer worden opengesteld.
De tunnel zal een meer rechtstreekse verbinding geven tussen Parijs en Rome.
Het wegdek is 7 meter breed met aan beide zijden een voetpad van 80 cm voor de technische dienst die belast zal zijn met het onderhoud. Op de foto een kijkje in de alpen-tunnel. (Auteur: Ring)
Op 24 maart 1999 vloog in het midden van de tunnel een Belgische vrachtwagen in brand.
Laat en onjuist optreden van het tunnelpersoneel, onder andere ten gevolge van communicatieproblemen, verergerde de situatie.
Bij de brand kwamen 39 mensen om het leven er is een Monument ter herdenking van de slachtoffers van de tunnelbrand vlak onder de aankomst bij de tunnel.
June 2, 1965
Chamonix-Mont-Blanctunnel
The 11.6 km long car tunnel through Mont Blanc will soon be opened to traffic.
The tunnel will provide a more direct connection between Paris and Rome.
The road surface is 7 meters wide with a footpath of 80 cm on both sides for the technical service who will be responsible for maintenance. In the photo a look into the alpine tunnel. (Author: Ring)
On March 24, 1999, a Belgian truck caught fire in the middle of the tunnel.
Late and incorrect actions by the tunnel personnel, partly as a result of communication problems, aggravated the situation.
39 people were killed in the fire, there is a Monument commemorating the victims of the tunnel fire just below the arrival at the tunnel.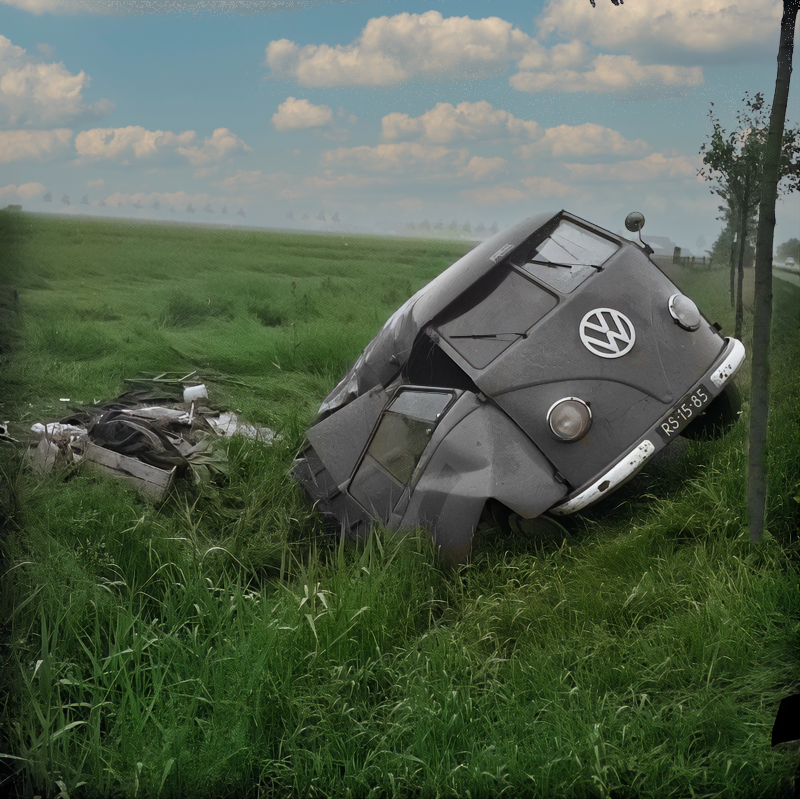 8 juni 1965-Weer een van de vele verkeersongelukken.
Een gekraakt Volkswagenbusje in de sloot langs de weg Amsterdam-Den Haag. De slippartij eiste drie gewonden.(Auteur: Cor Out)
June 8, 1965-Another one of many traffic accidents. A cracked Volkswagen Van in a ditch along the Amsterdam-The Hague road.
The slip claimed three injuries (Author: Cor Out)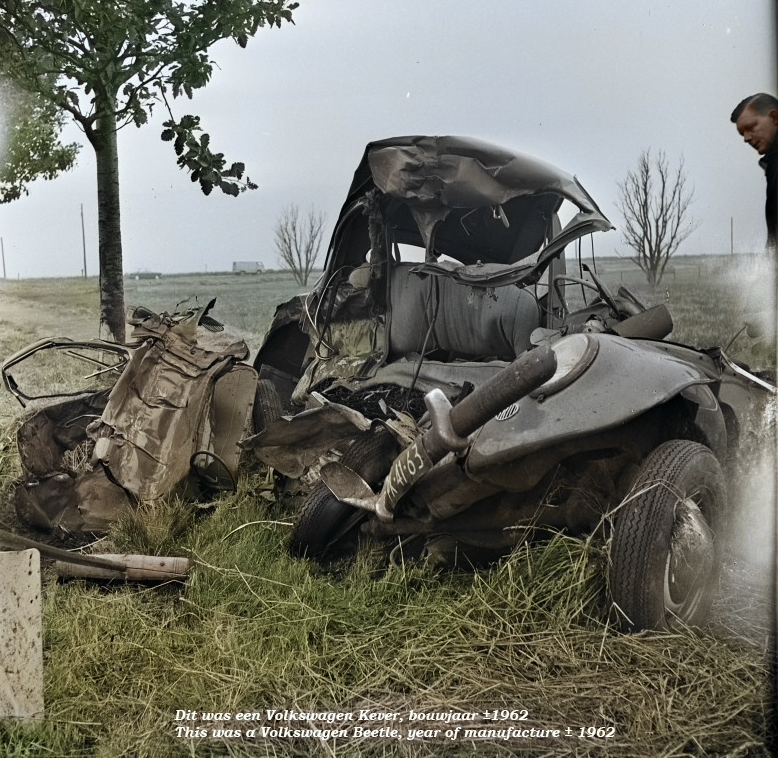 14 juni 1965. Een dode bij ernstig auto-ongeluk. Een dode was het trieste resultaat van een ernstig ongeluk op de weg van Westzaan naar de Benthuizerpont.
Een personenwagen botste daar maandagavond tegen een vrachtwagen het geen er toe leidde dat de bestuurder van de personenwagen om het leven kwam.
June 14, 1965. One dead in serious car accident. One death was the sad result of a serious accident on the way from Westzaan to the Benthuizerpont.
A passenger car crashed into a truck there on Monday evening, which resulted in the driver of the passenger car being killed. (Auteur:ANP)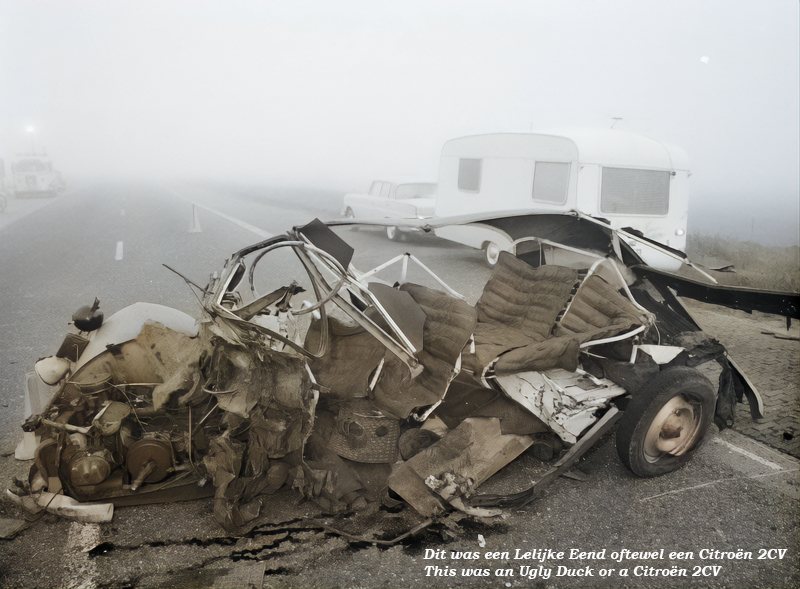 15 juni 1965- Ernstig auto ongeluk nabij leeuwarden. Drie personenwagens waren betrokken bij een ongeluk in de omgeving van de friese hoofdstad hierbij kwamen twee personen om het leven. De foto toont het wrak van een van de beide wagens waarvan de bestuurder overleed.
June 15, 1965 - Serious car accident near Leeuwarden. Three passenger cars were involved in an accident in the vicinity of the Frisian capital and two people were killed. The photo shows the wreckage of one of the two cars of which the driver died. (Auteur:ANP)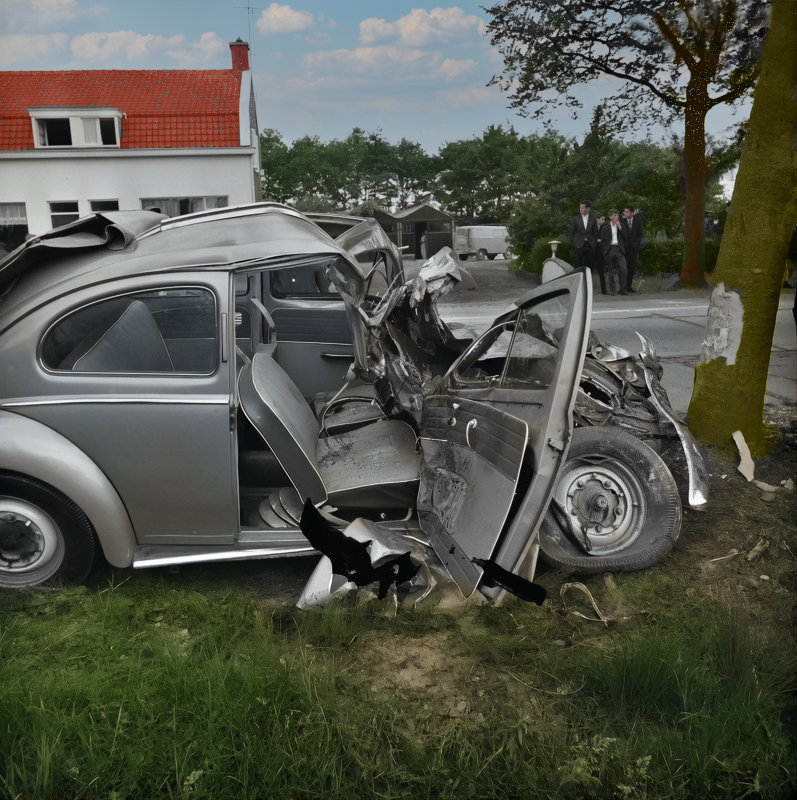 22 juni 1965-Breda-ongeluk-wrak
Bij een verkeersongeluk dinsdag op de weg van breda naar Bergen op Zoom is een persoon om het leven gekomen en werden twee andere ernstig gewond.
Het ongeluk geschiedde tijdens een proefrit waarbij de verkoper om het leven kwam toen zijn wagen onder een vrachtauto schoot die bezig was met een inhaalmanoeuvre. Auteur: Anp
June 22, 1965 -Breda accident-wreck
In a traffic accident on Tuesday on the road from Breda to Bergen op Zoom, one person was killed and two others were seriously injured.
The accident occurred during a test drive in which the salesman was killed when his car hit a truck that was overtaking. Author: Anp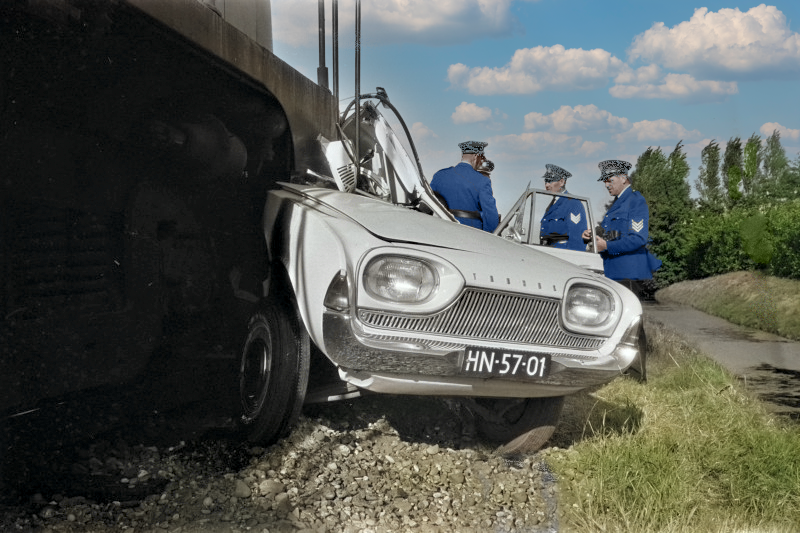 1 juli 1965-Donderdagmiddag is op een onbewaakte spoorwegovergang aan de Smitshoekseweg in Rotterdam een personen auto gegrepen door een olietrein.
De wagen werd over een afstand van bijna 300 meter meegesleurd en totaal vernield.
De bestuurder een 66-jarige Rotterdamse aannemer werd na 40 meter uit de wagen geslingerd en werd op slag gedood.
July 1, 1965 -Thursday afternoon is on an unguarded level crossing at the Smitshoekseweg in Rotterdam a passenger car caught by an oil train.
The car was dragged over a distance of almost 300 meters and completely destroyed.
The driver, a 66-year-old contractor from Rotterdam, was thrown out of the car after 40 meters and was killed instantly.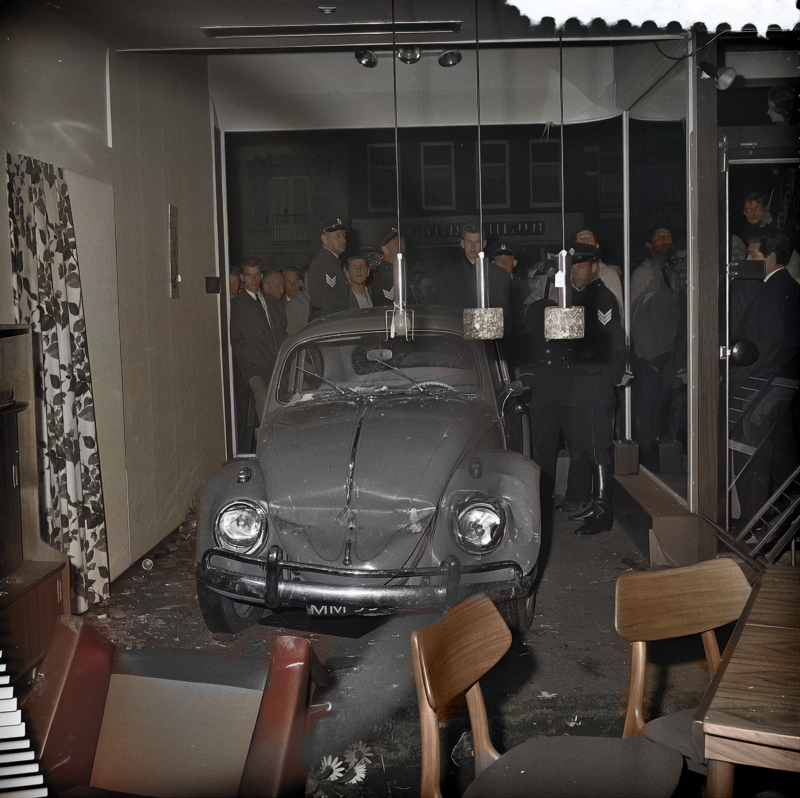 5 juli 1965-In de nacht van zondag op maandag rond het middernachtelijk uur is een onbemande auto op de Amsterdamse Rozengracht een meubelwinkel binnengereden.
Terwijl de bestuurder een meningsverschil met een taxi-chauffeur oploste sukkelde de auto de stoep op nam een muurtje en kwam tot stilstand op een bankstel. Persoonlijke ongevallen deden zich niet voor. (Auteur: Cor Out)
July 5, 1965 -In the night from Sunday to Monday around midnight an unmanned car entered a furniture store on Amsterdam's Rozengracht.
While the driver resolved a disagreement with a taxi driver, the car staggered onto the sidewalk, onto a wall and came to a stop on a couch. Personal accidents did not occur. (Author: Cor Out)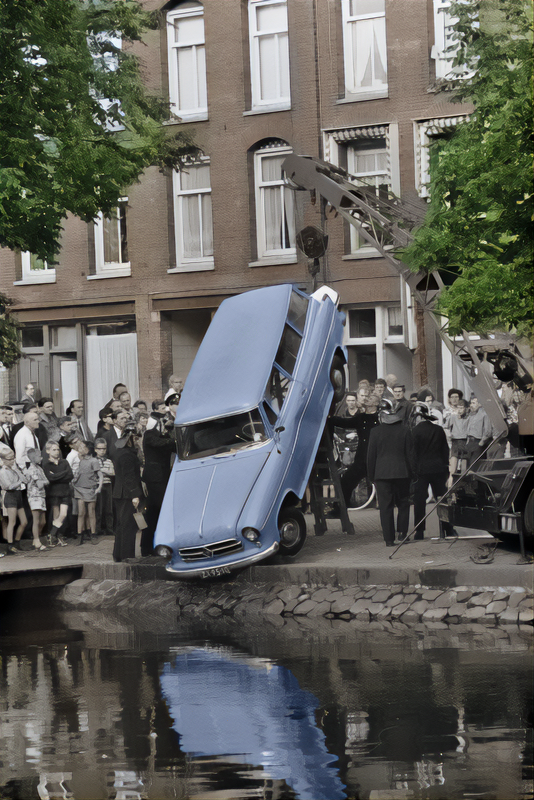 21 juli 1965-Amsterdam-ongeluk. Het betreft hier een Borgward Isabella Kombi
Een auto is te water geraakt aan de Ruysdaelkade. Eigenlijk behalve dan voor de eigenaar niets bijzonders. Maar als je met de vakantie in de stad bent gebleven toch de moeite waard om even te gaan kijken en blijkbaar hebben velen zo gedacht..... Auteur: Peter Van Zoest
21 July 1965 -Amsterdam accident. This is a Borgward Isabella Kombi
A car hit the water at the Ruysdaelkade. Nothing special except for the owner. But if you have stayed in the city during the holiday it is still worthwhile to have a look and apparently many have thought that way ..... Author: Peter Van Zoest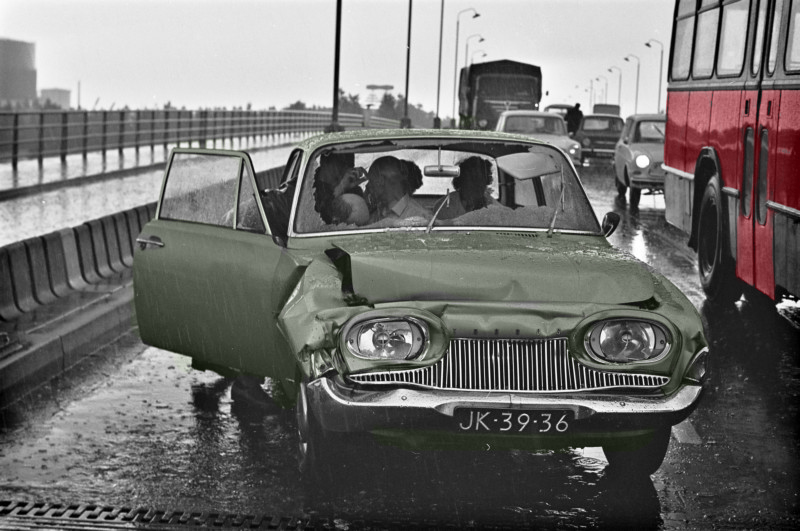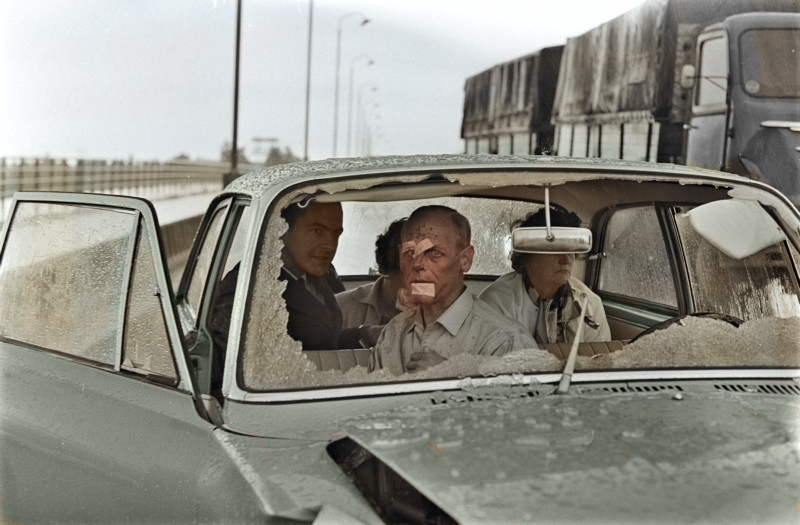 22 juli 1965
Amsterdam, Ford Taunus (12M of een 17M) rijd achterop een vrachtwagen, licht gewonden.(Auteur:ANP)
Toentertijd voldeden een paar pleisters wel, later rukten met veel "vertoon' de Ambulances uit die een weg proberen te banen door het verkeer, wat in die jaren best wel meeviel, maar dit is waarschijnlijk de lokale huisarts wat pleisters plakken.
July 22, 1965
Amsterdam, Ford Taunus drives on the back of a truck, slightly injured.
At the time a few plasters were sufficient, later with a lot of "show" the Ambulances pulled out trying to pave their way through the traffic, which was not so busy in those days, but this is probably the local doctor putting some plasters on.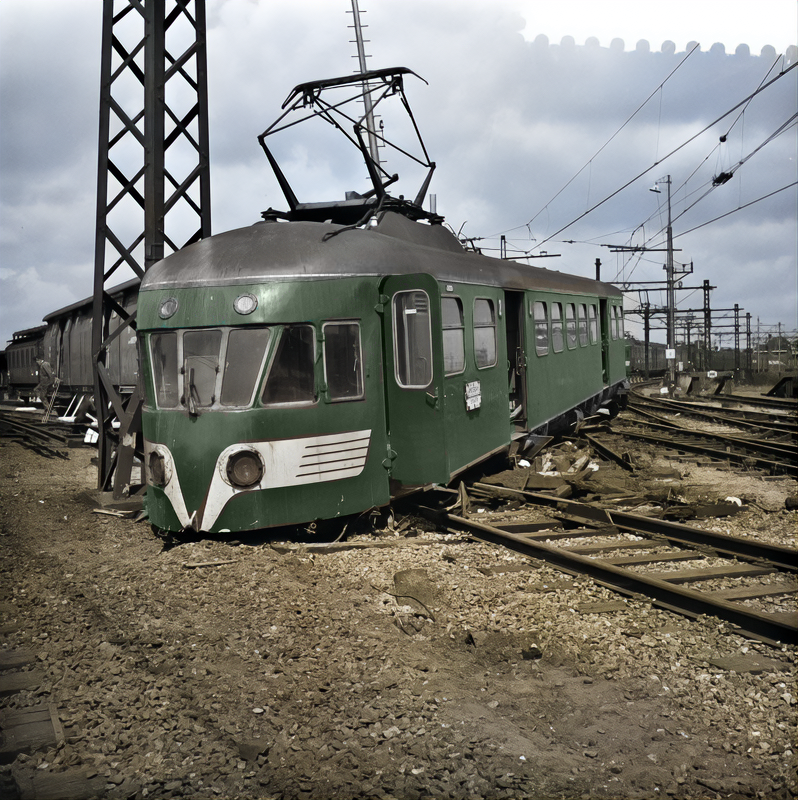 25 juli 1965-Zaterdagochtend is tijdens het rangeren een leeg treinstel ontspoord.
Persoonlijke ongevallen deden zich niet voor doch vele vakantiegangers zagen hun mooi uitgekiende reisschema in het honderd lopen doordat een groot aantal sporen onbruikbaar werd.
De ontspoorde trein ramde een bovenleidingsmast en werd van het loopstel gerukt, het duurde uren voor de zaak weer geklaard was. (Auteur: Cor Out)
July 25, 1965 -On Saturday morning, an empty train set derailed during shunting.
Personal accidents did not occur, but many holidaymakers saw their well-thought-out travel schedule go to waste because a large number of tracks became unusable.
The derailed train rammed into a catenary mast and was torn from the running gear, it took hours for the matter to be cleared up. (Author: Cor Out)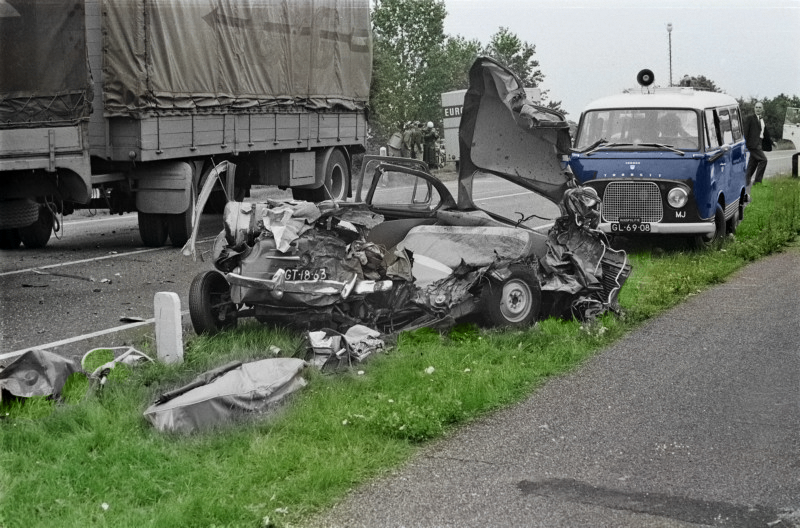 28 juli 1965 - Bij een verkeersongeluk op de weg van Delden naar Goor (N346) zijn woensdag vijf mensen om het leven gekomen de slachtoffers zaten in een personenauto (Het blijkt dat dit een Fiat 600D is geweest) die op de andere rijbaan kwam en frontaal tegen een vrachtauto botste van de Transportfirma G&G (Goedkoop & de Geus zie afbeelding hieronder).
De wagen werd volkomen vernield; de chauffeur van de vrachtauto bleef ongedeerd..
De Fiat 600D is in januari 1962 op kenteken gezet.
July 28, 1965 - In a traffic accident on the road from Delden to Goor (N346) on Wednesday, five people were killed.
The victims were in a passenger car (It turns out that this was a Fiat 600D) that came on the other lane and collided head-on into a truck from the Transport company G&G (Goedkoop & de Geus see image below)


The car was completely destroyed;

the driver of the truck was unharmed.


The Fiat 600D was registered in January 1962. (Auteur: Anp, Corr)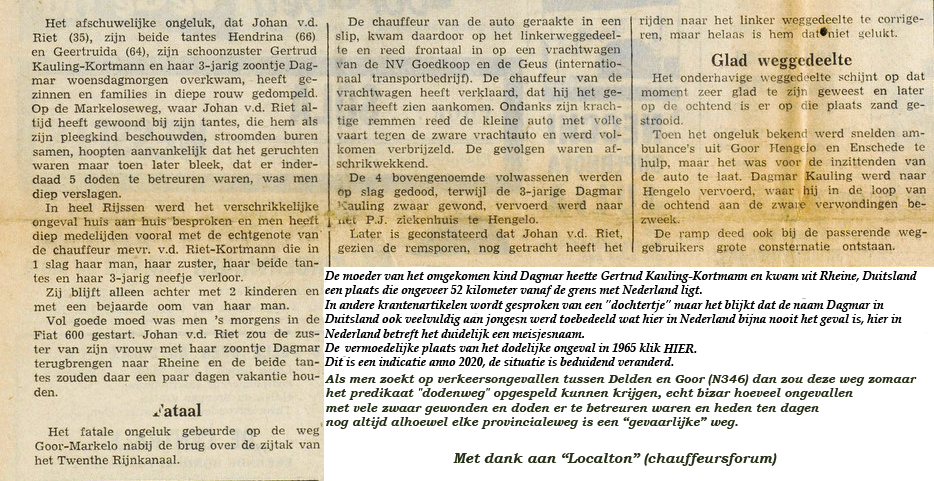 Dit is een Fiat 600D. - This is a Fiat 600D.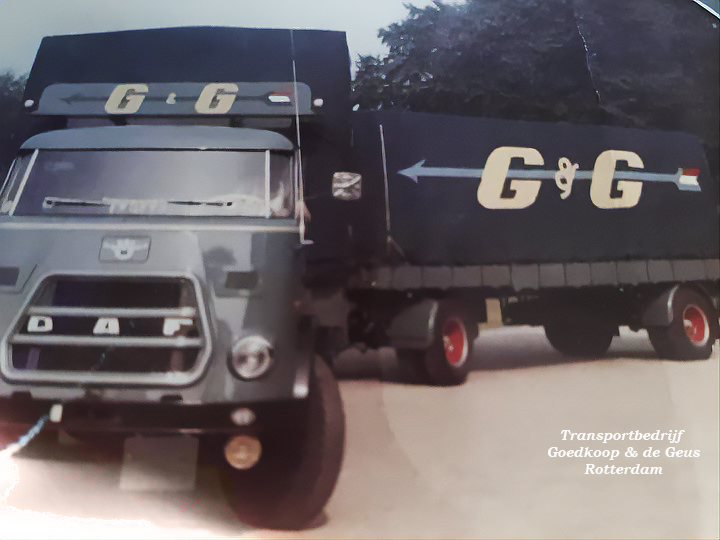 Hier meer info omtrent deze voormalige transportfirma, zie de links: Nedlloyd Road Cargo Moerdijk ZWN Transport Fransen Transport en er is nog veel meer te vinden over deze transportbedrijven die in de categorie "Nostalgie oftewel Vergane Glorie" vallen, met dank overigens aan Marotrans van het "chauffeursforum".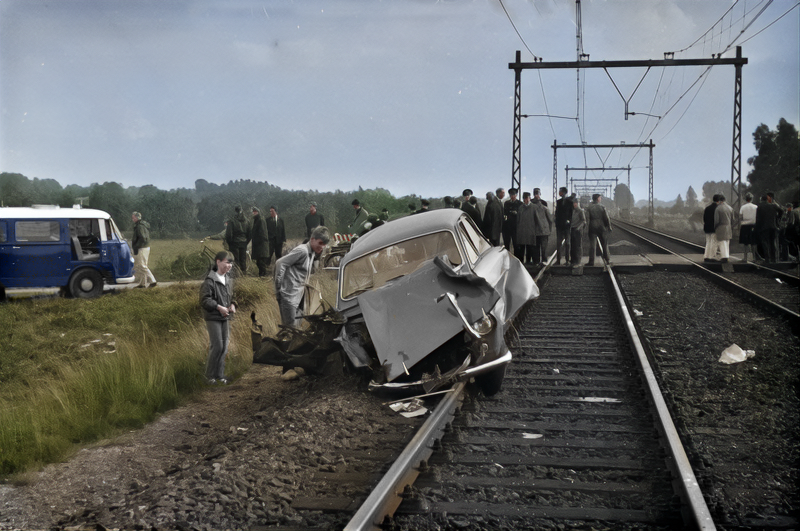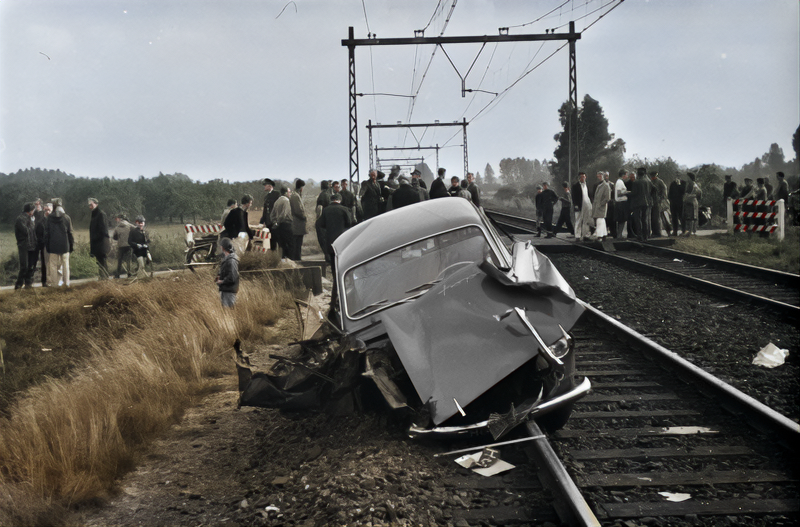 4 augustus 1965 - Een 24-jarige man is woensdag om het leven gekomen toen de auto waarin hij meereed op een onbewaakte overweg tussen Brummen en Zutphen tegen een juist passerende trein reed.
De bestuurster van de wagen kreeg een shock terwijl twee kinderen licht gewond werden. De foto toont het wrak op de overweg. (Auteur: Anp, Corr)
August 4, 1965 - A 24-year-old man was killed on Wednesday when the car in which he was riding on an unguarded level crossing between Brummen and Zutphen collided with a passing train.
The driver of the car suffered a shock while two children were slightly injured. The photo shows the wreck on the level crossing. (Author: Anp, Corr)
16 september 1965-Stockholm. Een tragedie heeft zich voorgedaan tijdens een toeristische rondrit met een zweedse dubbeldekker.
De bovenbouw raakte een portaalmast waaraan verkeersborden waren opgehangen.
De zware ijzeren balk drong de bus binnen waardoor een van de passagiers werd gedood en verscheidene anderen verwondingen opliepen. (Auteur: Scanpix)
September 16, 1965-Stockholm. A tragedy occurred during a touristic tour on a Swedish double decker.
The superstructure hit a portal mast on which traffic signs were hung.
The heavy iron beam entered the bus, killing one of the passengers and injuring several others. (Author: Scanpix)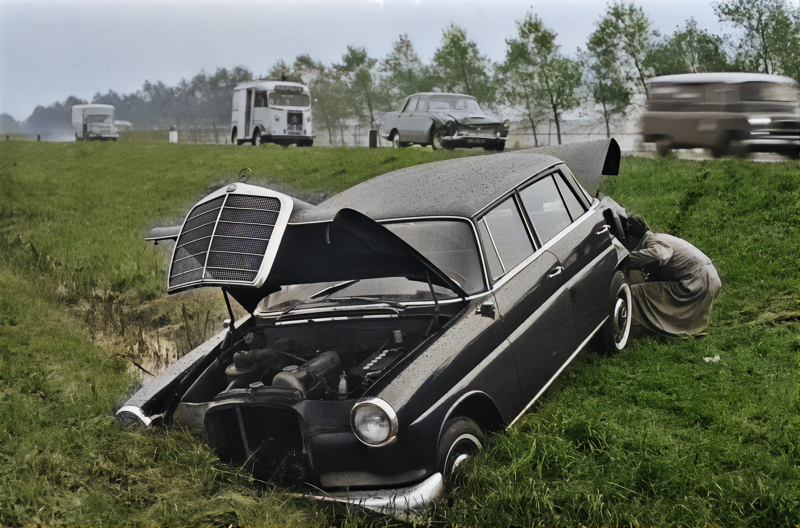 28 september 1965 - Ouderkerk aan de Amstel-rijksweg 2, kettingbotsing. Acht auto's waren betrokken bij een kettingbotsing op de rijksweg Amsterdam-Utrecht onder Ouderkerk aan de Amstel dinsdagmiddag.
Een van de wagens belandde beschadigd in een sloot. Persoonlijke ongevallen deden zich niet voor. (Auteur: Herman Pieterse)
September 28, 1965 - Ouderkerk aan de Amstel-highway 2, pile-up collision. Eight cars were involved in a chain collision on the Amsterdam-Utrecht motorway under Ouderkerk aan de Amstel on Tuesday afternoon.
One of the wagons ended up damaged in a ditch. Personal accidents did not occur. (Author: Herman Pieterse)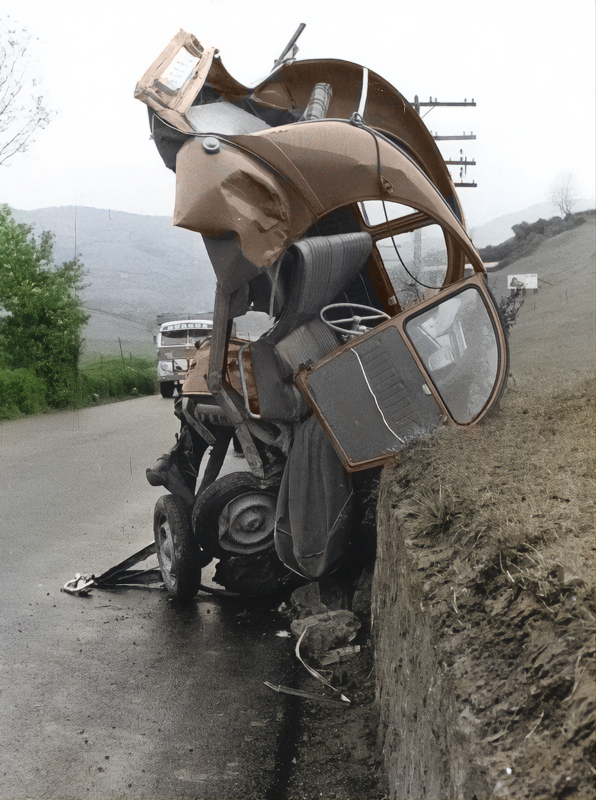 Een spaanse automobilist, die zijn Lelijke Eend, zoals wij deze Citroën 2CV benoemen, geparkeerd op een smalle verkeersweg vanwege een pechgeval en vond zijn auto gereduceerd tot een brok schroot terug.
Een vrachtwagen had het "obstakel' niet opgemerkt aangezien het onverlicht aan de kant van de weg stond geparkeerd.
Dit alles speelde zich af op zondag 27 november 1966 in de buurt van El Casal in het noorden van Spanje.(Baskenkand)
A Spanish motorist, who parked his Ugly Duck, as we call this Citroën 2CV, on a narrow road due to a breakdown and found his car reduced to a piece of scrap metal.
A truck had not noticed the "obstacle" as it was parked unlit on the side of the road.
All this took place on Sunday November 27, 1966 in the neighborhood of El Casal in the north of Spain. (Baskenkand)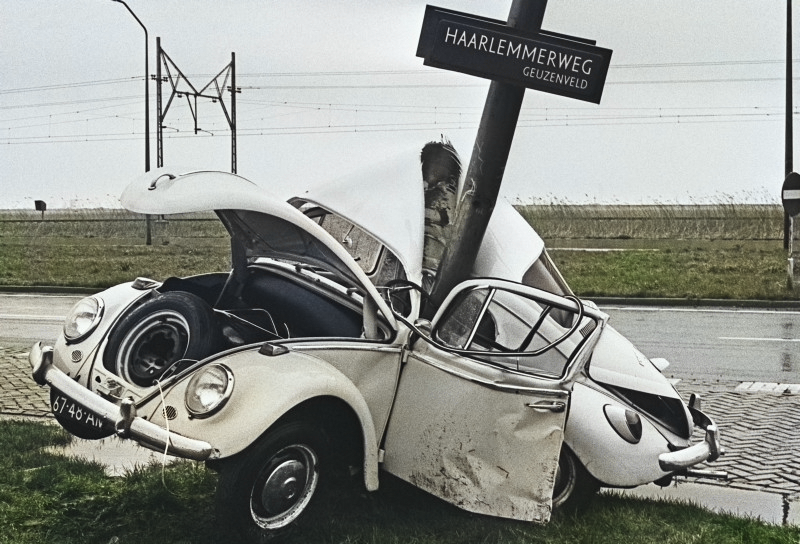 10 april 1967 - Op de Haarlemmerweg, Amsterdam, ter hoogte van de Abraham Kuyperlaan, is een Volkswagen kever geslipt en om een lantarnpaal gekruld.
De bestuurder werd zwaar gewond naar het ziekenhuis afgevoerd. (Auteur+Photo: ANP Cor Out)
April 10, 1967 - On the Haarlemmerweg, Amsterdam, near the Abraham Kuyperlaan, a Volkswagen beetle has slipped and curled around a lamp post.
The driver was seriously injured and taken to hospital. (Author + Photo: ANP Cor Out)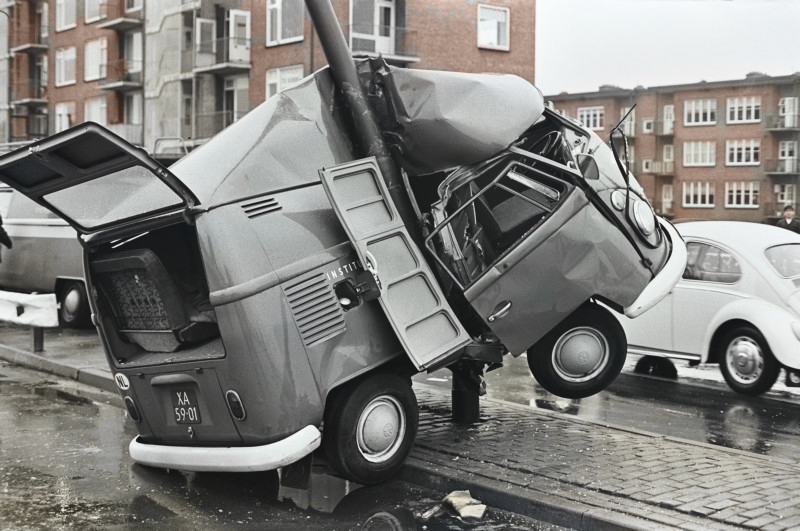 1 oktober 1968 -AMSTERDAM - In de stromende regen slipte een busje op de Coentunnelweg en krulde zich om een lantarenpaal.
De bestuurder werd naar het ziekenhuis vervoerd. (Auteur+Photo: ANP Andre Van Den Heuvel).
October 1, 1968 -

AMSTERDAM - In the pouring rain, a Volkswagen Van skidded on the Coentunnelweg and curled around a lamppost.


The driver was taken to hospital.

(Author + Photo: ANP Andre Van Den Heuvel)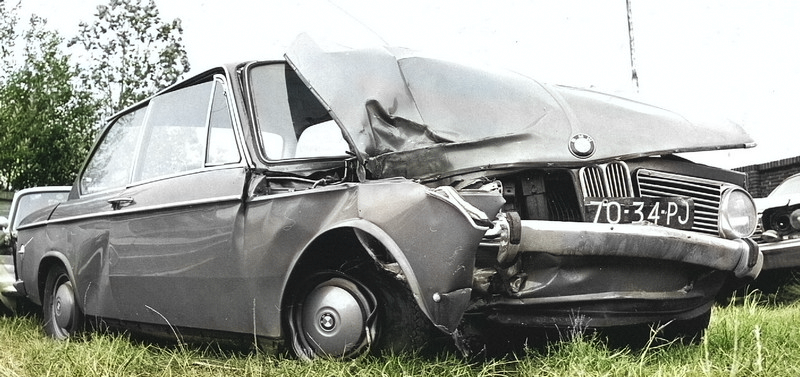 De BMW van de toenmalige Ajax-doelman Heinz Stuy op 21 oktober 1971, die in de nacht van woensdag op donderdag in IJmuiden tegen een boom aanreed.
The BMW of the then Ajax goalkeeper Heinz Stuy on October 21, 1971, who hit a tree in the night from Wednesday to Thursday in IJmuiden.
Bron: Auteur:Ruud Hoff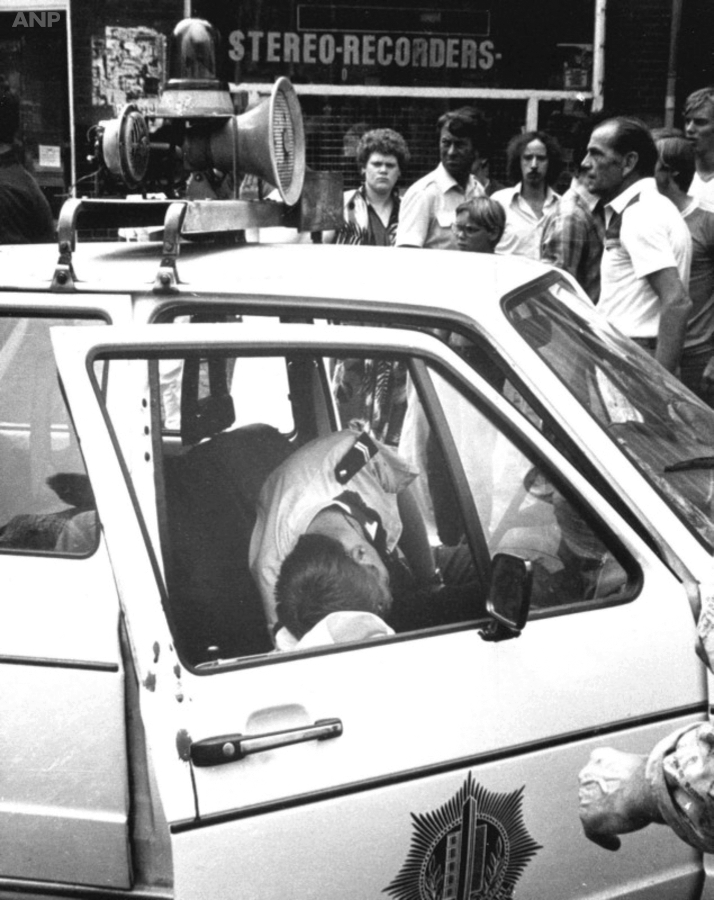 6 augustus 1982 Politieagent vermoord.
Afgelopen vrijdag veroorzaakte een schietpartij in Amsterdam de dood van een politieman - de 27-jarige J.G. Honingh - terwijl zijn partner zwaar gewond raakte.
De twee politieagenten waren op patrouille toen ze bericht kregen van het hoofdbureau dat een man een slijterij had beroofd.
Zodra de man - de 33-jarige Alan Patrick Reeve uit Liverpool - de politieauto zag begon hij te schieten, waarbij hij de ene politieagent onmiddellijk doodde.
Reeve was voortvluchtig, hij ontsnapte vorig jaar (1981) uit de Broadmore-gevangenis, waar hij werd vastgehouden omdat hij twee mensen had vermoord.
Toen hij 15 jaar oud was, vermoordde hij een vriend, vijf jaar later deed hij hetzelfde met een medegevangene.

August 6, 1982 Police officer murdered.
Last friday (aug. 6th '82) a shooting in Amsterdam caused the death of a policeman - the 27-year old J.G. Honingh - while his partner was badly wounded.
The two policemen were on patrol when they got the message from headquarters that a man had robbed a liquor store.
As soon as the man - 33-year old Alan Patrick Reeve from Liverpool - saw the police car he started shooting, killing the one policeman immediately.
Reeve was a fugitive, he escaped last year (1981) from the Broadmore prison, where he was held because he had murdered two people. When he was 15-years old, he killed a friend, five years later he did the same with a fellow prisoner.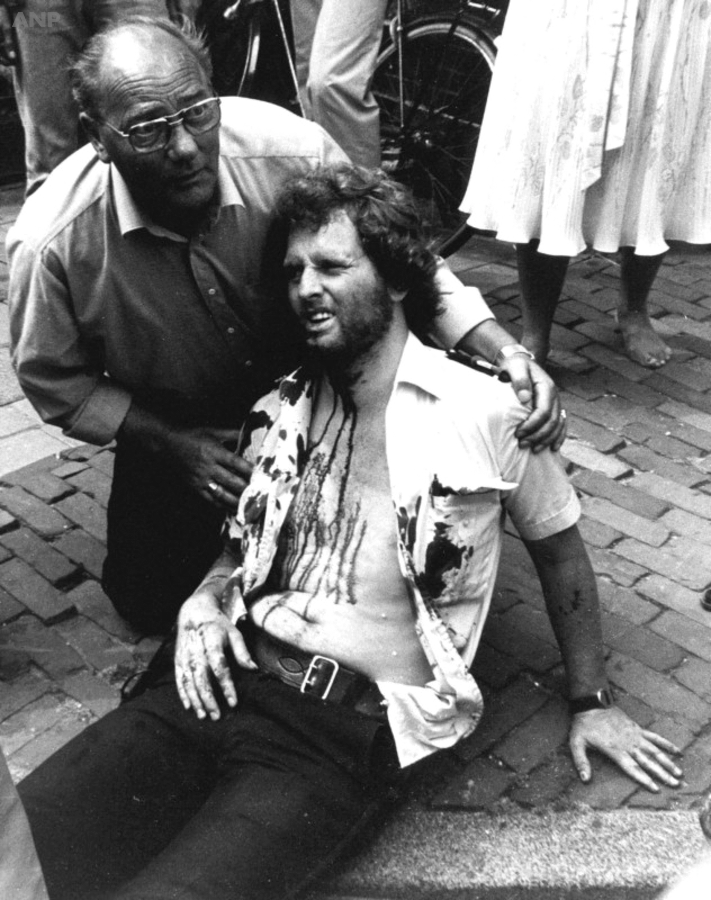 De collega van de vermoorde politieagent ligt hier ernstig gewond op straat.
The murdered policeman's colleague is here seriously injured on the street.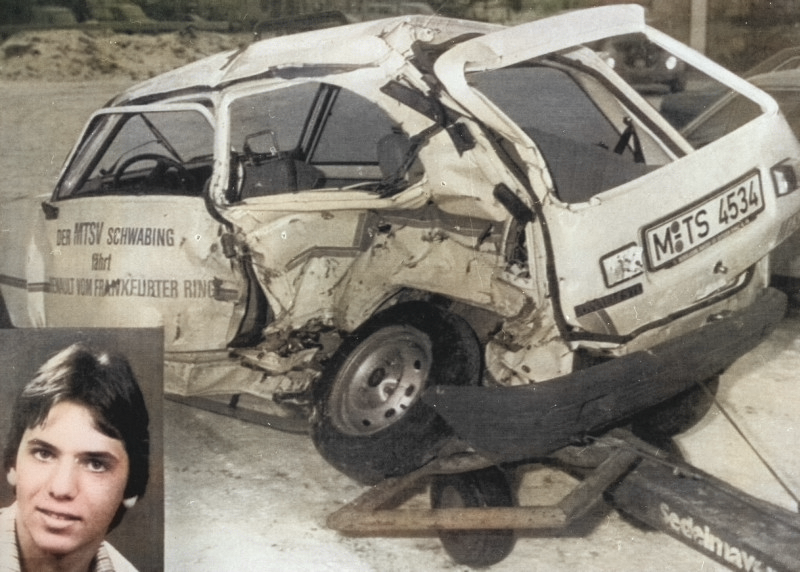 Maria Alm, Oostenrijk 30 december 1983
De 20-jarige West Duitser Jürgen Bienerth (inzet) vond vrijdag bij Hinterthal in Oostenrijk de dood, toen hij met zijn wagen (foto) in botsing kwam met een door Mr.Pieter van Vollenhoven bestuurde auto. (Auteur: ANP)
Maria Alm, Austria December 30, 1983
The 20-year-old West German Jürgen Bienerth (inset) was killed on Friday near Hinterthal in Austria, when his car (photo) collided with a car driven by Mr.Pieter van Vollenhoven.
(Author: ANP)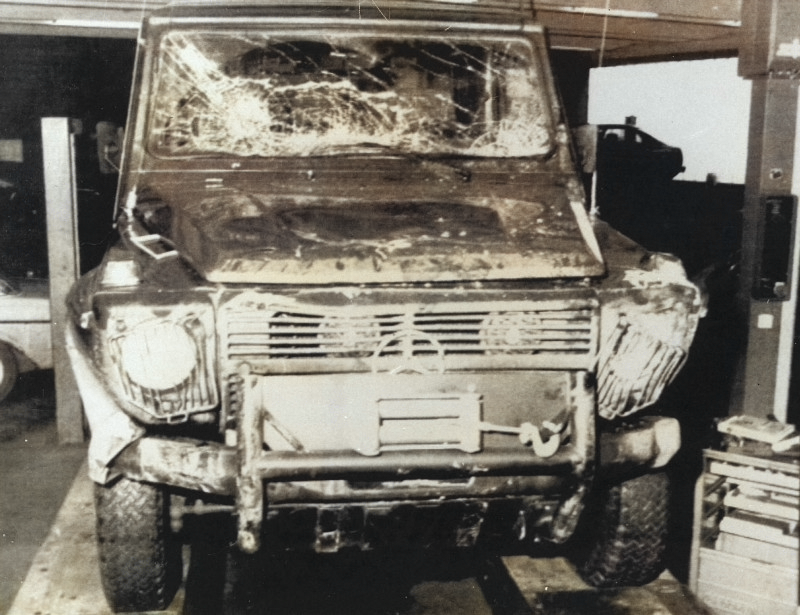 Maria Alm, Oostenrijk 30 december 1983
De gehavende Mercedes-Benz G-klasse, welke vrijdag met Pieter van Vollenhoven achter het stuur in Oostenrijk in botsing kwam met een door de 20-jarige Jürgen Bienerth uit West-Duitsland bestuurde auto. Bienert, een bekende handballer, verloor het leven.
Pieter van Vollenhoven en zijn met hem meerijdende echtgenote prinses Margriet en zoon prins Pieter Christiaan bleven ongedeerd. Het ongeval gebeurde, nadat de wagen von Bierert in een slip was geraakt. (Auteur: ANP)
Pas na 28 jaar biedt Pieter van Vollenhoven zijn excuses aan de moeder van een verongelukte jongen aan.
Maria Alm, Austria December 30, 1983
The battered Mercedes-Benz G-Class, which collided with Pieter van Vollenhoven behind the wheel in Austria on Friday with a car driven by 20-year-old Jürgen Bienerth from West Germany. Bienert, a famous handball player, lost his life.
Pieter van Vollenhoven and his wife Princess Margriet and son Prince Pieter Christiaan were unharmed.
The accident happened after von Bierert's car skidded. (Author: ANP)
Only after 28 years does Pieter van Vollenhoven apologize to the mother of a boy who has died.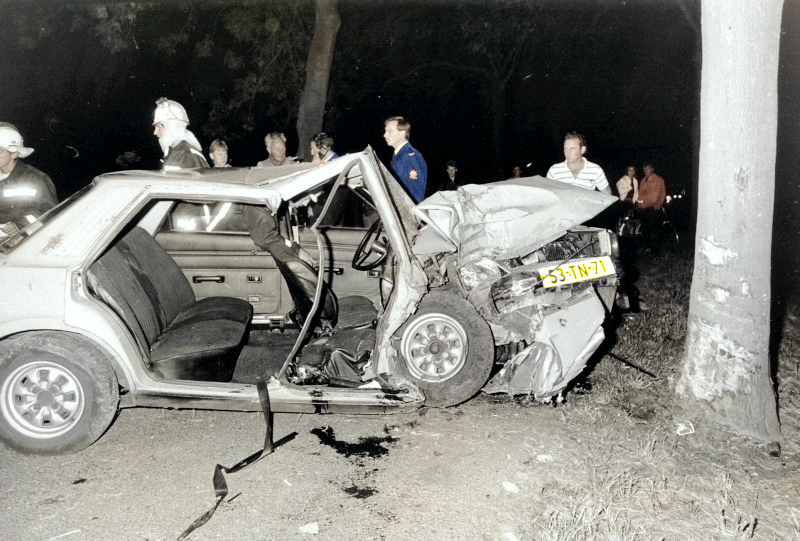 5 september 1986 - Vrijdagavond raakte op de Plasweg te Waddinxveen een personenauto in moeilijkheden.
De wagen raakte van de weg af en reed tegen een boom. Twee inzittenden werden gedood en er vielen meerdere gewonden.
September 5, 1986 - On Friday evening on the Plasweg in Waddinxveen, a passenger car got into trouble.
The car got off the road and hit a tree. Two occupants were killed and several injured.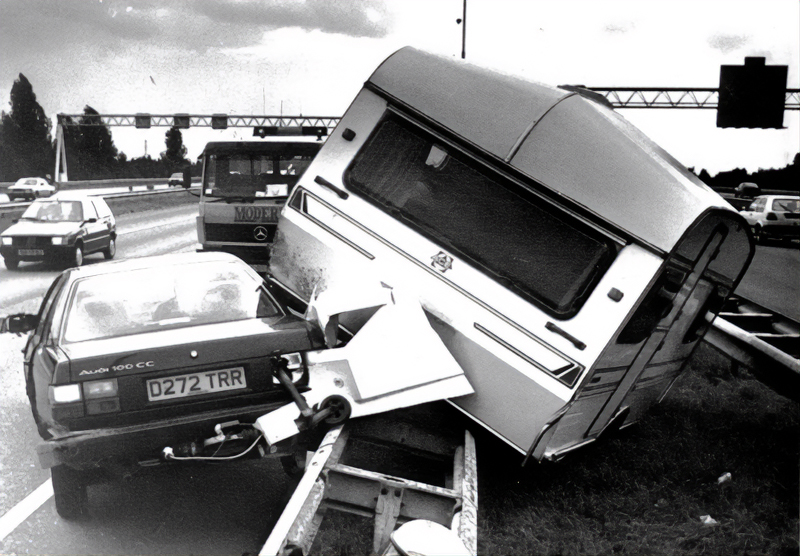 1 augustus 1989 - Utrecht. Totaal 25 auto's werden vandaag door een wegpiraat beschadigd tijdens een dollemansrit die uiteindelijk in een politiefuif eindigde.
Een 27-jarige Hagenaar ramde op de A-12 verschillende medeweggebruikers van achteren.
Deze Engelse automobilist had zijn vakantie in Nederland anders voorgesteld. (Auteur: Anp)
August 1, 1989 - Utrecht. A total of 25 cars were damaged by a road pirate today during a crazy ride that eventually ended in a police party.
A 27-year-old resident of The Hague rammed several other road users from behind on the A-12.
This English motorist had presented his holiday in the Netherlands differently. (Author: Anp)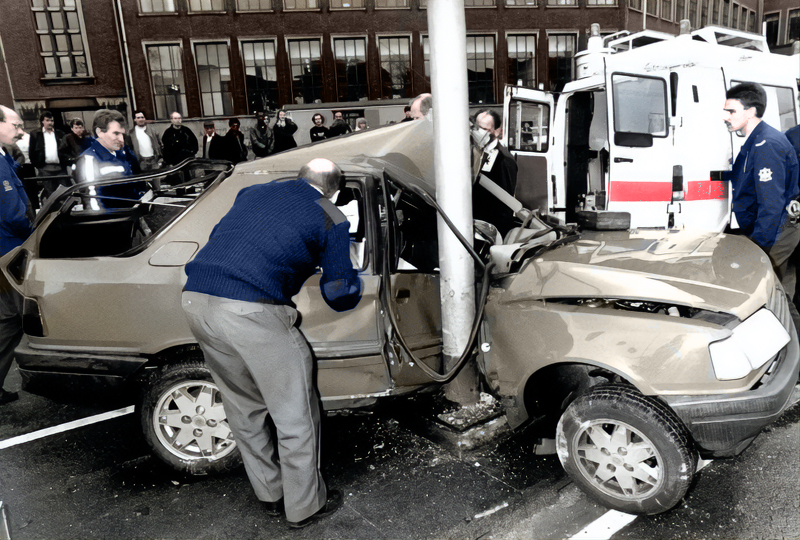 30 oktober 1989 - Amsterdam. Hulpverleners schieten maandagmorgen op de Mauritskade in Amsterdam toe om een beknelde en gewonde jongeman uit zijn autowrak te bevrijden, nadat hij met hoge snelheid tegen een paal gebotst was.
Het afgelopen weekeinde waren ook weer veel jongeren bij auto-ongelukken betrokken. (Auteur: Cor Out)
October 30, 1989 - Amsterdam. On Monday morning, emergency workers on the Mauritskade in Amsterdam come to free a trapped and injured young man from his car wreck, after he crashed into a pole at high speed.
Last weekend, many young people were again involved in car accidents. (Author: Cor Out)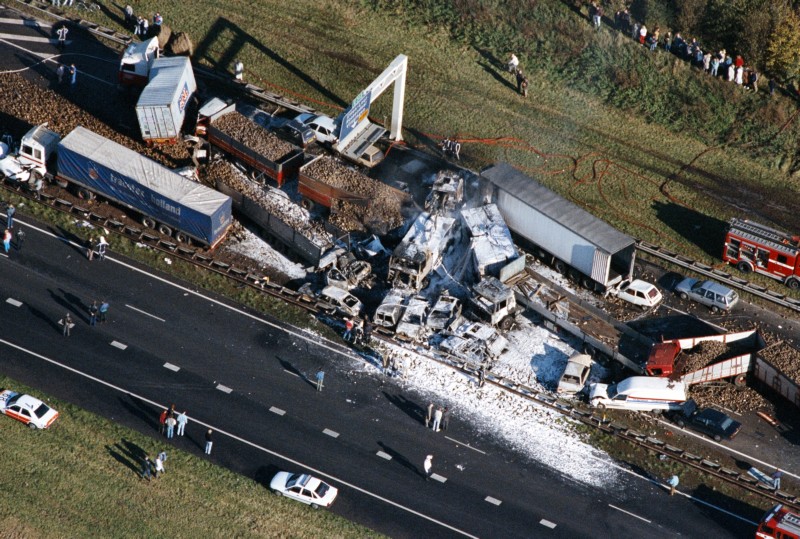 De verkeersramp bij Breda vond plaats op dinsdagochtend 6 november 1990.
Rond 9 uur hingen er flarden mist boven de A16 tussen de Moerdijkbruggen en de Belgische grens.
Een politiecontrole mat in de ochtendspits bij het wegrestaurant Princeville snelheden van ver boven de 130 km/u.
Dit kon niet goed gaan en dat ging het ook niet!!


Om 9.10 uur ging het fout op de westelijke rijbaan van de A16 richting Antwerpen, vlak voor de afslag Rijsbergen.
In een plotseling opdoemende mistbank remt een vrachtwagen met aanhanger hard af.
Achteropkomende auto's botsten op de combinatie, die dwars over de weg stond.
Vrijwel direct daarop is ook de oostelijke rijbaan richting Rotterdam het toneel van op elkaar botsende auto's en vrachtwagens.
Om 9.20 uur was het verkeer in beide richtingen tot stilstand gekomen in de dichte mist. In de ravage ontstond een brand.

101 voertuigen waren bij de kettingbotsing betrokken, waaronder een tankwagen met zwavelzuur en een niet-ontgaste xyleen -tankwagen.
8 mensen kwamen om het leven, 27 liepen verwondingen op.
Het was helaas niet de eerste ramp op dit wegvak, op 25 augustus 1972 had op ditzelfde wegvak van de A16, ook in dichte mist, een Verkeersramp bij Prinsenbeek plaatsgevonden.
Daarbij kwamen destijds 13 mensen om het leven en tientallen liepen verwondingen op.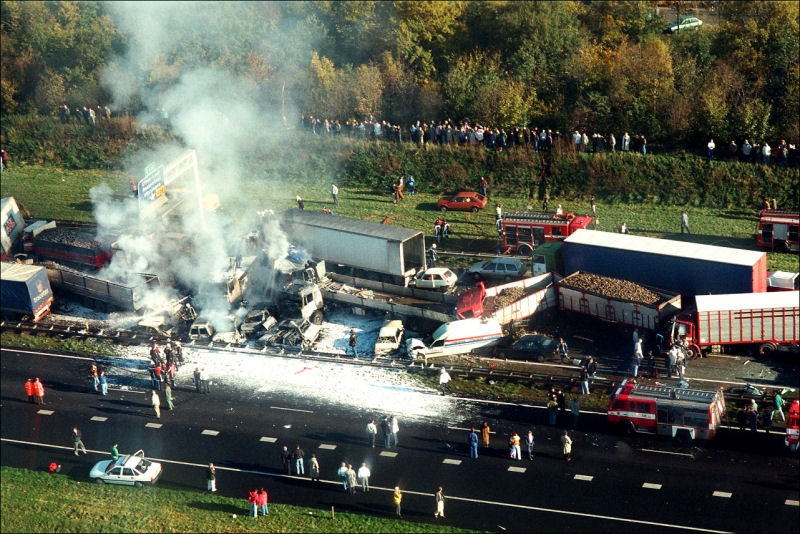 Overigens is dit nog wel de oude verkeersweg A16 voor de verbreding in samenwerking met de aanleg van de Hogesnelheidslijn (HSL) die via Breda, Antwerpen naar Brussel loopt.
Incidentally, this is still the old A16 highway before the widening in collaboration with the construction of the high-speed train line (HSL) that runs via Breda, Antwerp to Brussels.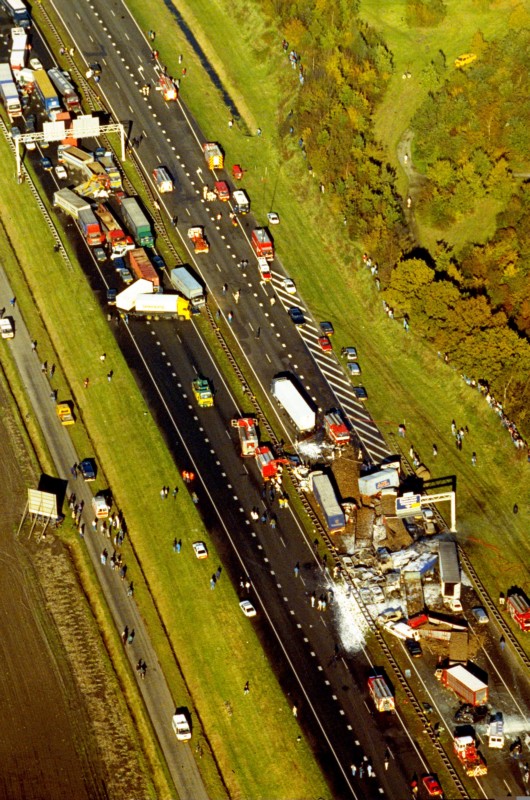 Bron: Auteur: Koen Suyk
English translation.
The traffic disaster near Breda took place on Tuesday morning, November 6, 1990.
At around 9 am, patches of fog hung over the A16 between the Moerdijk bridges and the Belgian border.
A police speedcontro-lcheck measured speeds of well above 80 mile/ h in the morning rush hour at the Princeville roadhouse.
This couldn't go well and it didn't !!
At 9.10 am things went wrong on the western carriageway of the A16 towards Antwerp, just before the Rijsbergen exit.
In a suddenly looming fog bank, a truck and trailer brakes hard, cars following behind collided with the combination, which was standing across the road.
Almost immediately afterwards, the eastern carriageway towards Rotterdam is also the scene of colliding cars and trucks.
At 9:20 am, traffic in both directions had stopped in the thick fog. A fire started in the havoc.
101 vehicles were involved in the collision, including a sulfuric acid tanker and a non-degassed xylene tanker.
8 people were killed, 27 were injured.
Unfortunately it was not the first disaster on this road section, on August 25, 1972, a traffic disaster near Prinsenbeek had occurred on this same road section of the A16, even in dense fog.
At the time, 13 people were killed and dozens were injured.
Den Bosch, 29 juli 1991
Werklieden plaatsen maandag een hekwerk voor twee zwaar beschadigde woning-gevels in de Zwollestraat in Den Bosch.
In de nacht van zondag op maandag reed een man met een vrachtwagen met kraan de voorpuien uit de woningen.
Hij had het gemunt op de woning van zijn ex-vriendin.
Auteur: Frans Van Der Linde
Den Bosch, July 29, 1991
On Monday, workmen will install a fence for two heavily damaged house facades in the Zwollestraat in Den Bosch.
In the night from Sunday to Monday, a man with a truck with a crane drove the fronts out of the houses.
He was targeting his ex-girlfriend's house. (Author: Frans Van Der Linde)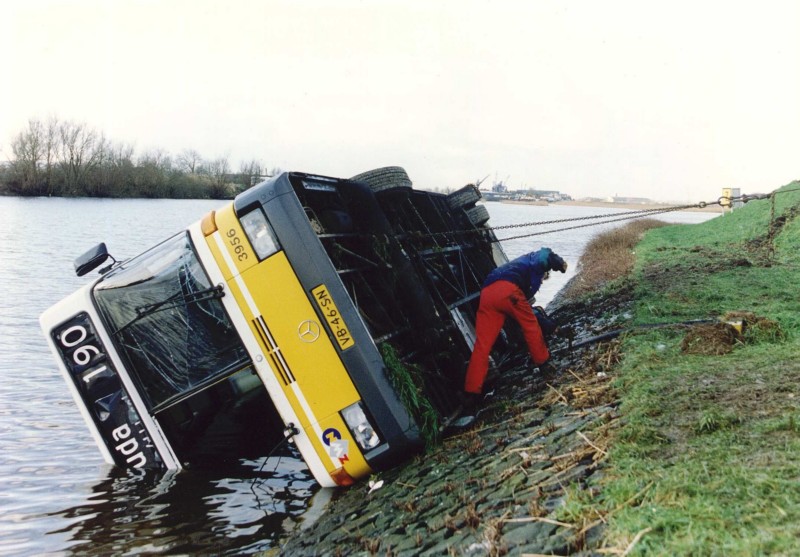 11 januari 1995 - MOORDRECHT - Een streekbus van ZWN-Groep (de streekvervoerders Westnederland en Zuidwestnederland) ligt gekanteld in de Hollandse IJssel, tussen Nieuwerkerk aan de IJssel en Moordrecht.
De bus slipte rond 0.800 uurdoor gladheid, twaalf (12) passagiers raakten licht gewond. (ANP Photo Auteur: Toussaint Kluiters)
January 11, 1995 - MOORDRECHT - A regional bus of the ZWN Group (the regional transport companies West Netherlands and Southwest Netherlands) is tipped over in the Hollandse IJssel, between Nieuwerkerk aan de IJssel and Moordrecht.
The bus skidded around 0800 hours due to iciness, twelve (12) passengers were slightly injured. (ANP Photo Author: Toussaint Kluiters)
The Ancestor Company
Alle rechten voorbehouden
All rights reserved
Met dank aan diverse archiefinstellingen voor het beschikbaar stellen van bepaalde afbeeldingen en feiten.
Thanks to various archive institutions for making certain images and facts available.
Copyright © Genealogybos.com 2023.
Copyrights allen van ANP tenzij anders vermeld.
Algemene voorwaarden
Deze voorwaarden hebben betrekking op het gebruik van al het materiaal op ANP Historisch Archief (verder te noemen ANP).
Alle teksten en digitale afbeeldingen op deze website zijn onder een Creative Commons-licentie beschikbaar en mogen onder de voorwaarden van de Creative Commons Naamsvermelding-NietCommercieel-GeenAfgeleideWerken 4.0 Licentie gebruikt worden.
Lees deze door voordat u iets hergebruikt. Naamsvermelding dient op de volgende manier gedaan te worden: 'ANP PHOTO (Jaar)/Foto: (naam Fotograaf en/of bureau) gelicenseerd onder de Creative Commons Naamsvermelding-NietCommercieel-GeenAfgeleideWerken 4.0 Licentie.