All photos that were previously black and white are colored by the webmaster (with some exceptions)
Nederlandse versie klik HIER
Let us introduce the Paulusma family members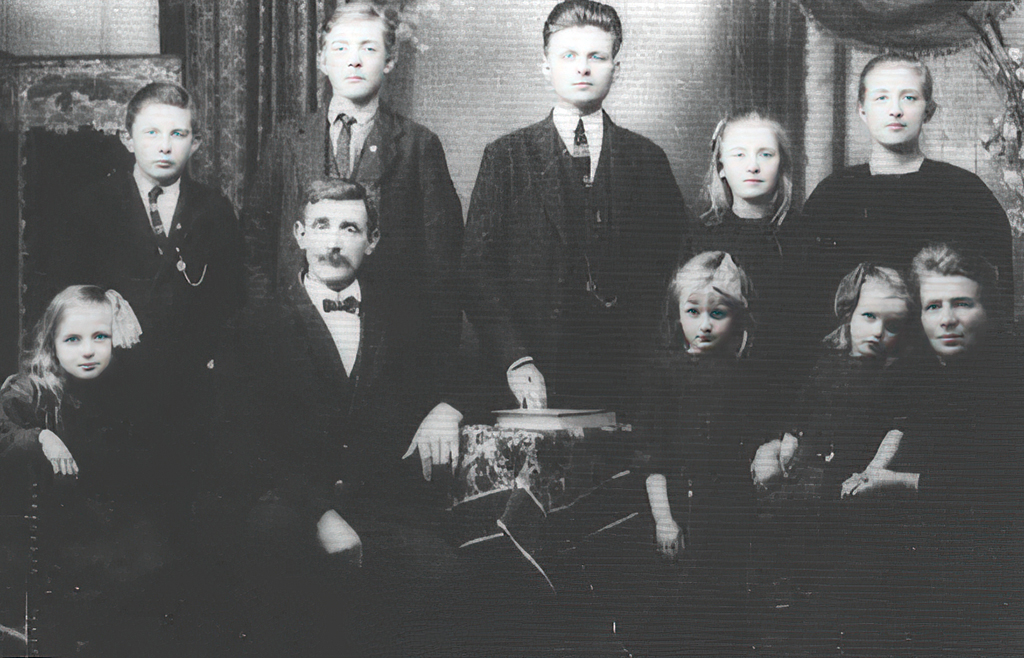 Back row:: Sjouk (Charley-1911-2000) Jan (John-1907-1983) Paulus (Paul-1902-1983) Anna (Ann-1912-1999) Griet (1904-1961)
Front row: Jeltje (Nellie-1920-1997) Meindert (1879-1957) Christina (Christine-1916-1994) Geertje (Gertie-1923-1985) Martje (Martha Paulusma-Buisman-1880-1932)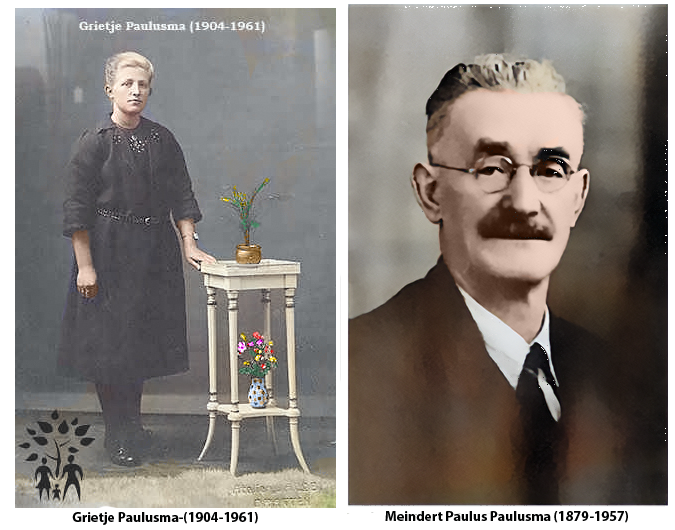 After all the tragic events in the Netherlands both before the war (the decease of Frederik Bekkema her husband) and during the war years, Grietje finally emigrated to Canada in January 1948 after having had contact with her family in Canada.
Her father Meindert Paulusma (68) had come from Canada to pick up his daughter Grietje, (who had already become a widow twice and had also lost her children) to accompany her on the journey with the s.s.Nieuw Amsterdam but also the trip to Winnipeg, Manitoba, Canada.
In this way, after long years, Grietje was reunited with her family who had been staying in Canada from around 1928.
Father Meindert and mother Martha had already emigrated to Canada around 1928 with the complete family apart from Grietje and Paulus, since Grietje was married to Frederik Bekkema (1904-1933) in 1927, Grietje remained behind,
After the death of Frederik Bekkema, Grietje married in 1938 with Arie de Jong the widower of Maria Splinters (1907-1936).
Arie is together with his son Peter and stepson Harm Bekkema, son from the first marriage of Grietje Paulusma and Frederik Bekkema, died in violence of war because of the Allies' shelling to expel the German occupier in their former hometown Eethen (Nb) with many other fellow villagers in November 1944, a monument has been erected in memory of these people who died as a result of war.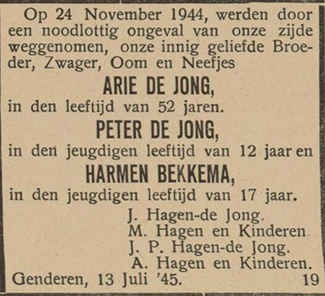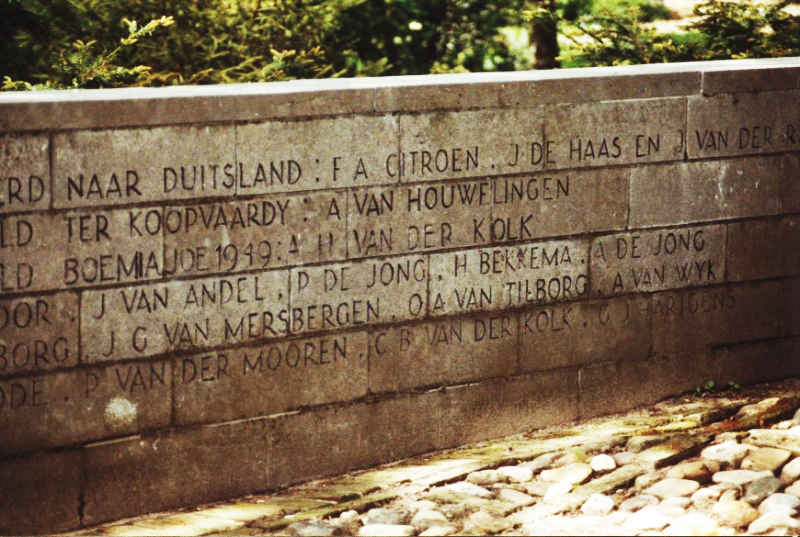 Emigration
Grietje Paulusma departed on Friday, January 23, 1948 with her father Meindert from Rotterdam with the s.s.Nieuw Amsterdam, arrival in New York on Sunday, February 1, 1948.
They traveled according to specification "tourist class" also called the former Third class or "Steerage", they traveled from New York to Winnipeg, Canada, how that journey went, there is no information available.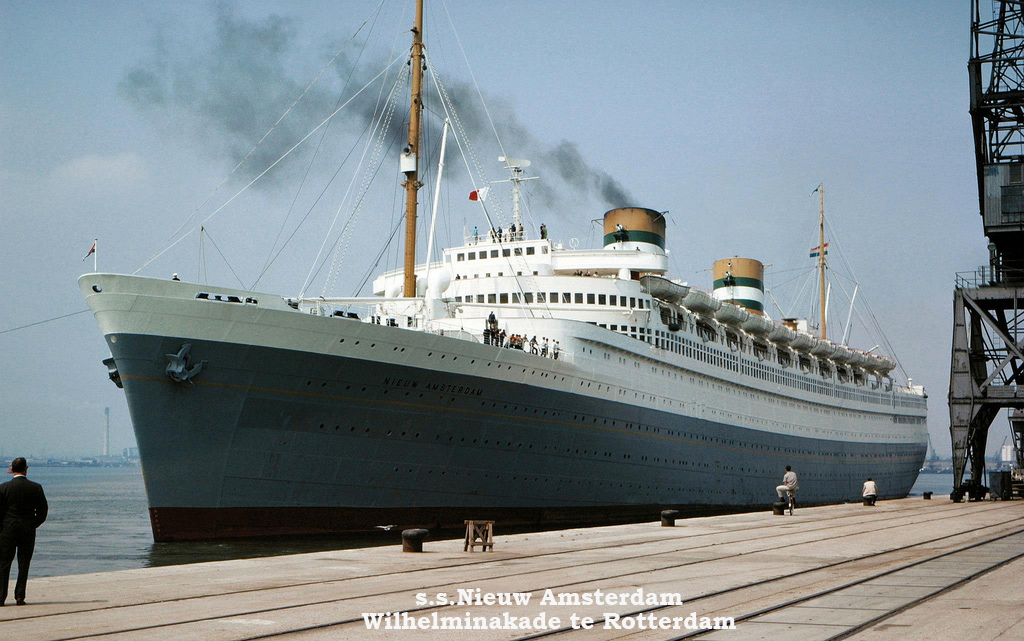 Paulus Paulusma (1902-1983)
Paulus Paulusma departed from Rotterdam on Sunday December 4, 1931 with the s.s.Statendam, arrival in New York on Tuesday December 13, 1931, Paul traveled Third class or "Steerage".
In principle, according to the then standards, only passengers traveling in Third Class were considered as emigrants.
First and Second class passengers were registered on passenger lists but did not have to pass through the immigration service, which was located on Ellis Island.
Paul traveled via Ellis Island according to those "principles", since he would not stay in America as an emigrant but emigrated to Canada, he would have gone through a shortened procedure.
Before his departure, Paulus lived temporarily with his sister Grietje and brother-in-law Frederik in IJmuiden, before he left for Rotterdam to embark there.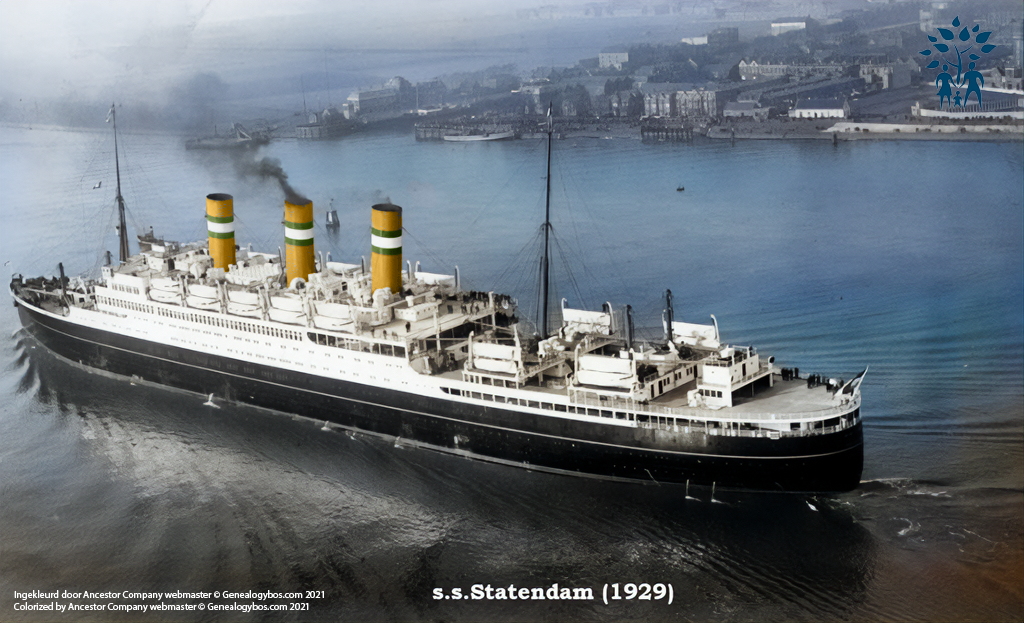 Arrival in the United States
It is always stated on the passenger lists that one arrives in New York, but in fact the ships of all shipping companies arrived at the port of Hoboken in New Jersey, see a photo below, or look at this webpage H.A.L. Hoboken.
All First and Second class travelers were then examined by a group of doctors on board the ship and were usually allowed to disembark in the port of Hoboken to continue their journey.
In contrast, this did not apply to Third Class or "Steerage" travelers who had to use "tenders" to sail with smaller ships to Ellis Island with all their possessions, that could take hours before everyone was present on Ellis Island.
People had to go through a certain cycle before they were finally approved to continue the journey by train or by ferry that went to the City of New York, the train station was relatively close to Ellis Island and still only exists in poor condition.
For more information about the Paulusma family, I refer you to this website: https://goo.gl/J8HF94 ( this is a shortened URL of the website)
Family tree de Vries-Bouma, Eikenaar-Brienesse
There is no e-mail on the webpage email address or contact page listed, but there is an error on that web page, below the line as shown:
Arie de Jong was the widower of Maria Splinters and, according to the compiler of that webpage, also the widower of Martha Buisman.
I suspect that the compiler / website owner of the above website has corrected this since I can no longer detect the error.
Mr. Taco Reinoud de Vries would have adjusted this, but mentioning a contact page or e-mail address via his website is not possible, probably afraid of spam or people like me who discover dozens of errors every day on genealogical websites, this in any case testifies to the mentality of certain people who hide behind certain genealogical websites.


Holland America Line Hoboken in New Jersey where all ships docked from Rotterdam, photo ca. 1910.
The last trip to the Fatherland?
Grietje (51) and her father Meindert (76) visited the Netherlands in the fall of 1955.
They returned to Canada from Rotterdam on Friday, December 9, 1955 with the S.S. Maasadam (

construction year

1952)
Arrival in New York on Monday, December 19, 1955, both traveled in the Tourist Class.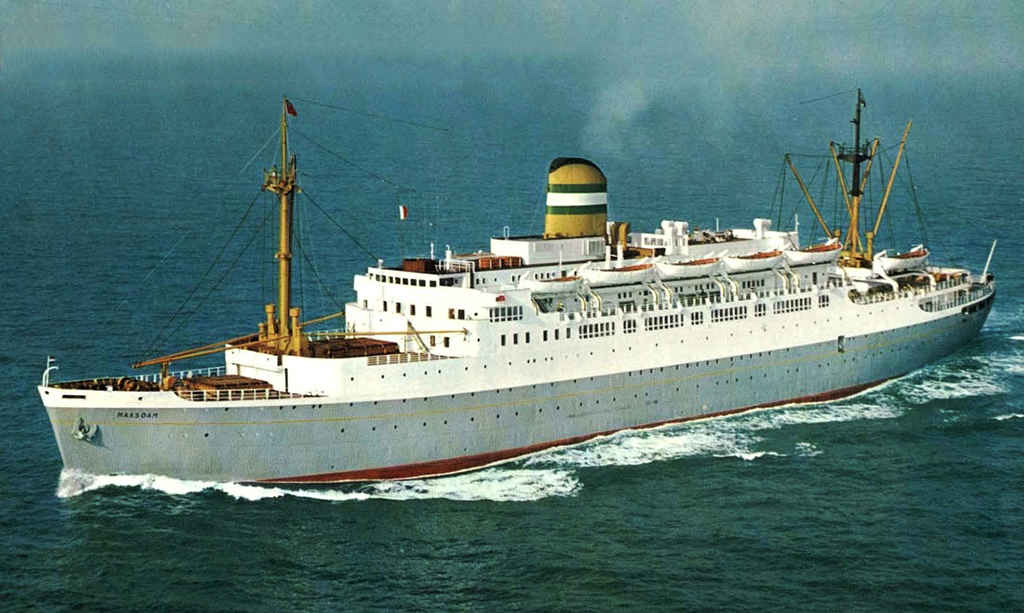 S.S.Maasdam year 1952
Sold to a Polish shipping company in 1968, name Stefan Batory, sold in 1988 to Erne Compania Maritima S.A., Panama, Panama R.P.
Sold in 1989 to City Shipping International Inc., Nassau, Bahamas
Last known owner: shipping company Courage Martime S.A., Nassau, Bahamas - manager: Tony Travel & Agency Ltd.,





English translation and editing by the
The Ancestor Company
All rights reserved,
Photo Source: Taco Reinoud de Vries.
Thanks to various archive institutions for making certain images and facts available.
Copyright © Genealogybos.com 2023