Dirk Jan (Dick) van Hunnik & Wilhelmina Margaretha van Hunnik Humberg
Dirk Jan (Dick) van Hunnik departed with his wife Wilhelmina Margaretha Humberg on Saturday

March 14, 1908

with the s.s. Rijndam from Rotterdam to United States, arrival New York Tuesday, March 24, 1908.
They traveled second class, meaning that they could directly off the ship after verification by medical personnel at the port of New York (actually it was Hoboken New Jersey where various shipping companies had their berths, look here)and were able to make their trip to Sioux City, Iowa.




Dirk Jan (Dick) van Hunnik and his wife Wilhelmina Margaretha Humberg were nationalized to American citizens on Tuesday, September 2, 1924 by the District Court of Sioux County, Orange City, Iowa, USA.
Dick van Hunnik visited the Netherlands around December 1929 for a period of about six weeks, other sources talk about a visit of three months, but that aside.
Dick visited his elderly mother and siblings in the Netherlands and also because of the death of his father Hermanus who died earlier on Wednesday, April 10, 1929 in Zeist.
Dick departed from Rotterdam with the s.s.Veendam on Friday, January 24, 1930, according to schedule, the s.s.Veendam had to arrive on the fourth of February 1930 in the port of New York, but due to a proper storm at sea, with wind speeds above 195km per hour or 120 miles ph, they finally reached with a delay of three days in Halifax, Nova Scotia, Canada instead of New York at Friday February 7, 1930.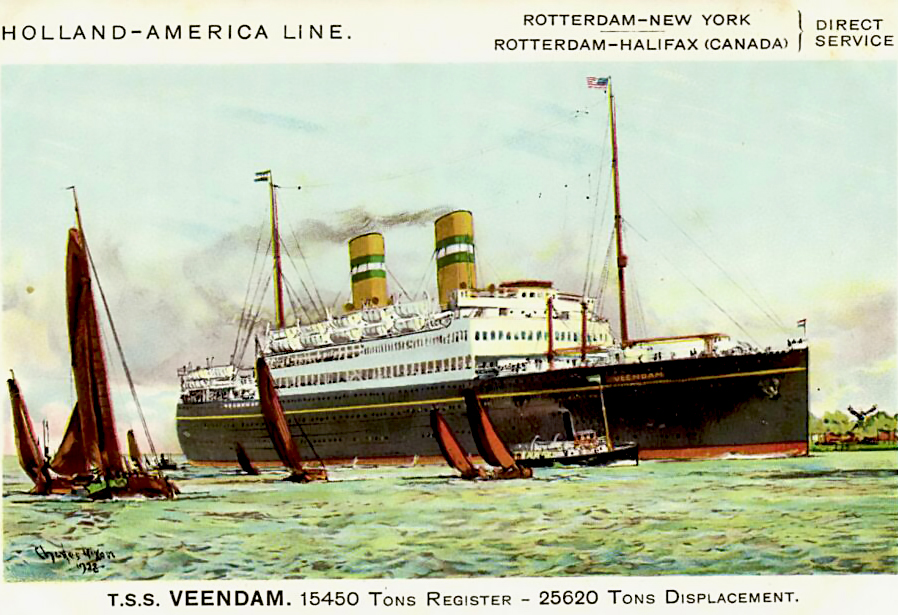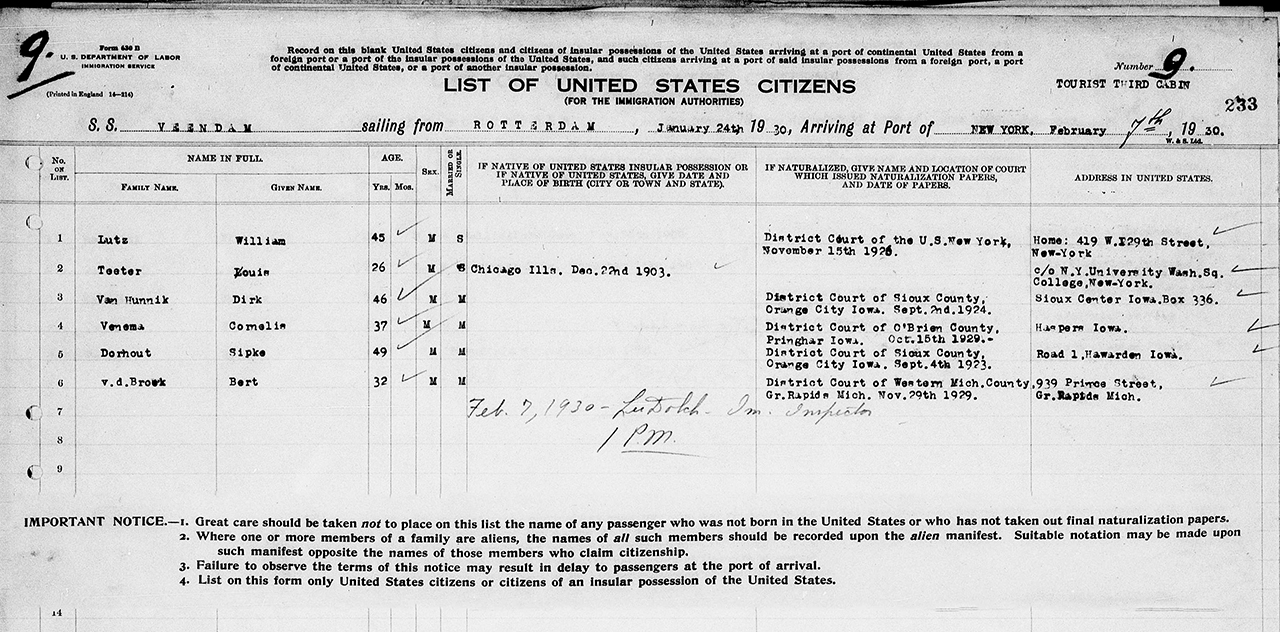 The s.s.Veendam was considerably damaged as stated in a newspaper article from The Alton Democrat on Friday, February 14, 1930, according to Dick van Hunnik's story, the pots and pans, chairs and other pieces of furniture flew through the tourist class dining room, the Bridge where the Captain does his job, was severely damaged as well as the electronic navigation and various devices and all kinds of things on deck went overboard

or badly damaged

by the massive storm, even some lifeboats were damaged, delayed the s.s.Veendam was pretty battered enter the port of Halifax, Nova Scotia, Canada, there were seven wounded no deaths, but the damage to the ship was huge. Dick traveled tourist class.
Dick further tells that despite his visit to family members in the Netherlands he would never set foot on a ship anymore for a thousand dollars, but Dick did not keep that promise because Dick and his wife visited the Netherlands in 1952 again per ocean liner, by the way. this was the last time they have visited the Netherlands.
They returned to the United States on Wednesday, October 29, 1952 with the M.S. Rijndam, they traveled tourist class, arriving New York on Saturday, November 8, 1952.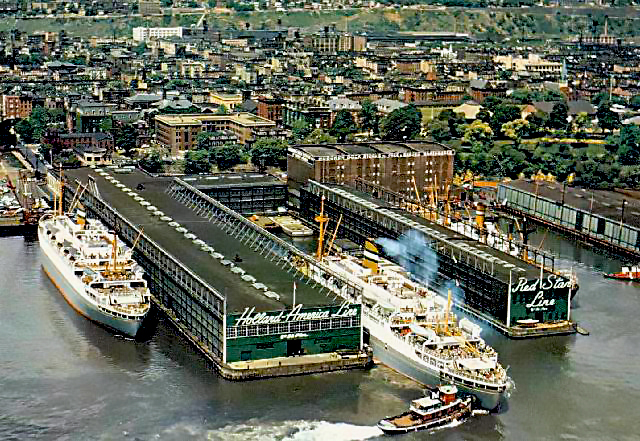 Both sister ships "Maasdam" and "Rijndam" can be seen here at the Holland America Line terminal at the Hoboken trminal, New Jersey
For many years this terminal was the gateway to the United States for millions of people, whether or not via Ellis Island.

Krantenknipsels van fam.Dick van Hunnik 1930 t/m 1990
Newspaper clippings from fam.Dick Hunnik of 1930 till 1990
Click here






English translation and editing by the
The Ancestor Company
All rights reserved,
Thanks to various archive institutions for making certain images and facts available.
Copyright © Genealogybos.com 2023.